Please read Nomal 1200W Inverter Review, if you are looking to buy a super low price inverter. Honestly, I don't own this inverter, so I researched it online. I found that it is not a powerful inverter as many customers have complained about its load capacity.
In this article, you will see a section of pros and cons, which will give more information on this product. After reading the pros and cons, you will be in a better position to take your buying decision.
Please note that it is a modified sine wave inverter, so it may not work with some of the appliances like microwave ovens, air conditioners and some others.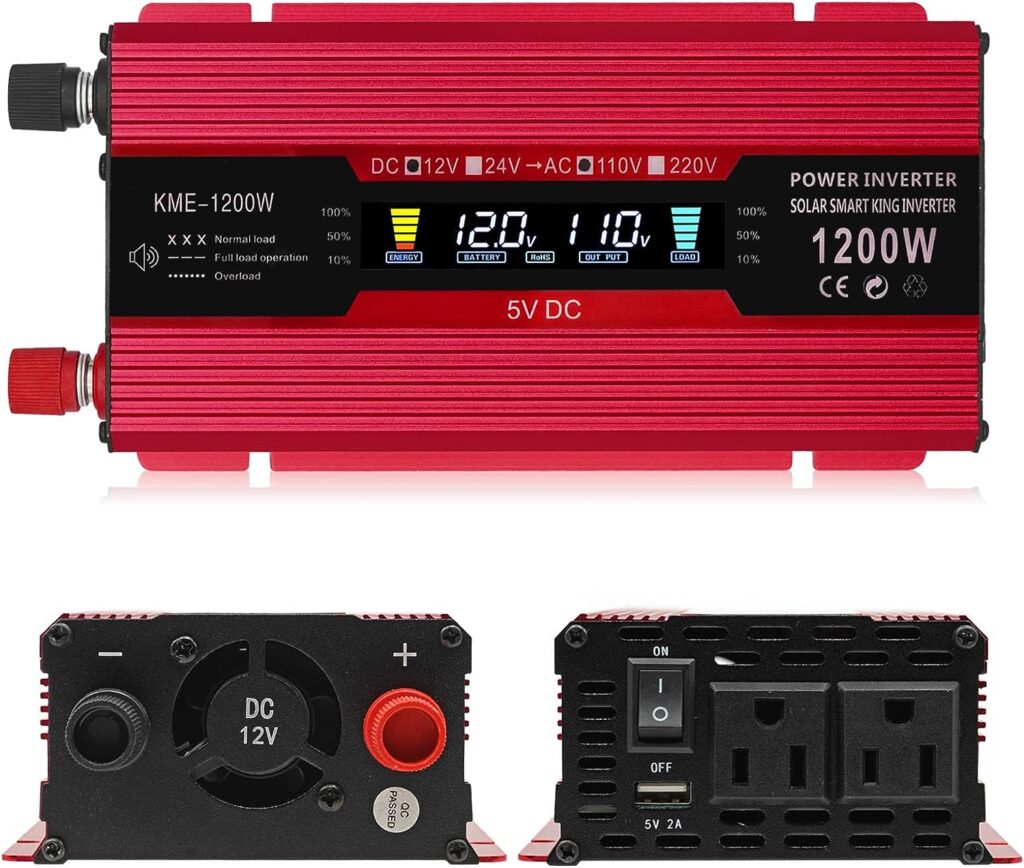 As per the product description, it has 1200W output capacity. The output voltage is 110V and the input voltage is between 11-volt to 15-volt.
The Nomal 1200W power inverter features 2 outlets (AC 110V) and one 5V USB port. Therefore, you will be able to connect multiple devices simultaneously. Please note that total output power does not exceed more than the 1200W rated power.
The car power inverter 2000W is a lightweight unit, which weighs just 1.63 lbs and measures 8.66 x 4.45 x 2.17 inches.
Failed to Deliver the Rated Output
A user said that this 1200W inverter failed to deliver the rated power. He said that he bought this inverter to use with a 100-watt solar panel and a 950CCA 12V battery. Actually, he wanted to charge his Makita 18V tool batteries using a charger that required 450W power. He didn't' want to run his generator all the times because he wanted to listen to music on a Bluetooth speaker. Therefore, the generator noise may disturb in listing to the music.
He said that this Nomal 1200W inverter didn't give even half of the rated output. As he tested this inverter with a brand new battery and solar system, so he was sure about the inverter fault. Therefore, he had to return this inverter to the manufacturer.
Another user said that this inverter failed to run a 700W microwave. He tried with multiple batteries such as coach batteries and diesel truck batteries. As per him, the longest the microwave would run was just a minute. Further, he said that the output voltage was also not accurate as he received just 90V but it should give at least 110V. So, this user warns others because it would be waste of money.
Highlights – Nomal 1200W Inverter
1200W output power
11V to 15V input voltage
110V output voltage
2 x AC 110V outlets
1 x 5V DC USB port
2 x alligator clips
Modified sine wave waveform
Red color
1.63 pounds weight
8.66 x 4.45 x 2.17 inches product dimensions
Nomal brand name
KME-1200W model number
Made in China
If you are interested in buying the Nomal brand inverter, reading the list of highlights would be helpful. It contains key features. You can see the 1200W unit is a modified sine wave inverter, which is not suitable for some of the sensitive electronics. In case, you want to run sensitive electronics, please go with a pure sine wave inverter. It has connection sockets such as 2 AC sockets and 1 USB port, which can be used to connect multiple devices at the same time.
PROS
Looks good in a red color
Lightweight
Low price
CONS
Failed to handle even half of the rated load
Display panel didn't work.
Inaccurate output voltage
Not very protective
On Amazon, detailed information was not provided about this unit.
Most of users are not happy with this unit.
It is a modified sine wave inverter, so it may not work with sensitive electronics.
The pros and cons may help you understand the capability of this inverter. These pros and cons are an important part of Nomal 1200W Inverter Review. You can see the inverter has many cons and a few pros, so I do not recommend such product. It has the major issue of failing to deliver the rated output power. It can't deliver even half of its rated power, so it is not a good power inverter. If you want to buy an inverter, please go with a popular brand.