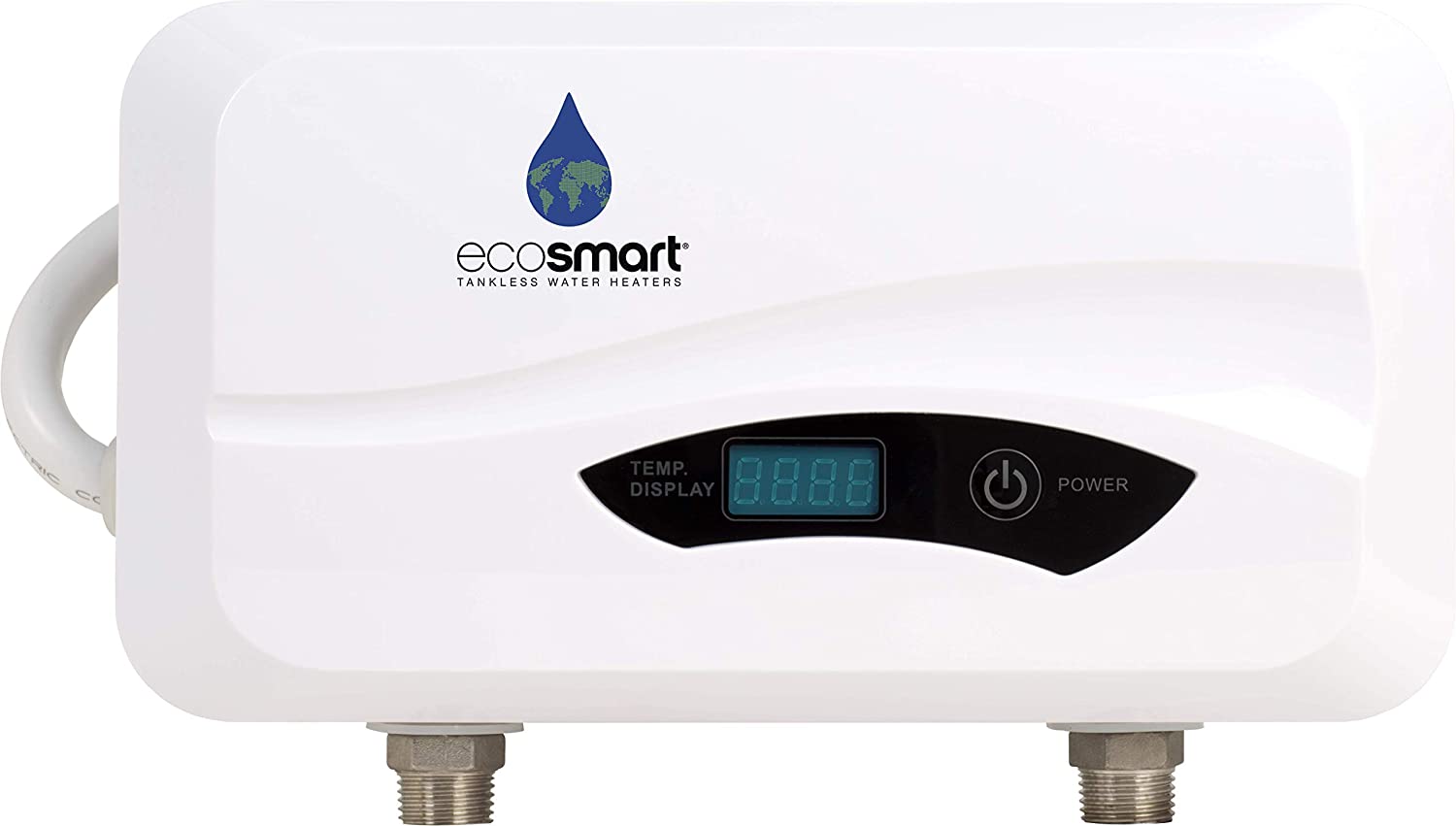 EcoSmart products are always smart. Now you can check EcoSmart tankless water heat. The tankless water heater is a good way of providing hot water for one sink at 0.5 GPM in warmer climates. This tankless water heater can run on a 30A breaker and 10 AWG wire.
Ecosmart POU 3.5 point of use electric water heater is highly recommended because it provides endless hot water if sized well. Now is the time to enjoy unstoppable on-demand hot water because the electric water heater heats water as it passes thru the unit. So, you do not need to store the water, you do not use to use a large tank, just the Ecosmart POU water heater is enough for delivering on-demand water.
The tankless water heater is a space saving unit because a traditional tank heater takes up a lot of space. Such things are not with this Ecosmart water heater. The well-mounted and thin design of the water heater frees up floor space for more storage. According to the manufacturer, the Ecosmart electric heater is approx. 90% smaller than a tank heater.
Well, the Ecosmart electric water heater is not only a space saver, but also an energy saver because it is based on auto-modulation technology so it uses only the amount of energy that is needed to heat the water when you need it. It is also a great time saver because it has point-of-use installation and on-demand heating facilities that reduce waiting for the hot water.
The powerful and smart electric heater is perfect for point-of-use hand washing application. So, it is perfect for bathrooms, offices, bars, recreational vehicles, homes and other places. The Ecosmart has the flow rate of 0.5 gallon per minute and it comes included with a 0.5 GPM sink aerator. Please know that for the best performance; please use it for the single use only. It is not recommended to use with a shower systems. You also need to refer to the sizing guide to select the perfect size water heater as per your requirements.
Important Features and Specifications
Endless hot water
Compact design
No need to store the water
80° to 140° F temperature control
Self-modulating technology used
Field replaceable elements
Space saver, time saver and energy saver
90% smaller than a traditional water heater
Point-of-use installation
Perfect for bathrooms, bars, vehicles, doctor's offices, strip malls and other places
For single sink only
Do not use with a shower or multiple fixtures
Sizing guide available
On-demand water supply
Reduced water and energy waste
Ecosmart is a popular brand for such electric water heaters
One-year warranty
Pros
For many users, it works as expected
Good for single faucet
Flow restricting aerator
Easy to control the flow
Cons
It is a little slower than expected.