In my view, 1000W output power is comprehensive power to run most electronics available in vehicles. The Fancy Buying inverter review is being written, please be with me to know its pros and cons.
I see it is advertised as a great car power inverter, which is correct. The Fancy Buying 1000W inverter is good to be used in various vehicles including cars, RVs, trucks and more. However, it is not limited to the vehicle usage; it is also very good for the emergency power requirements, back-up power and for running household appliances.
The Fancy Buying 1000W inverter has almost all the features, which are usually found in a standard inverter. Of course, it has many safety features too.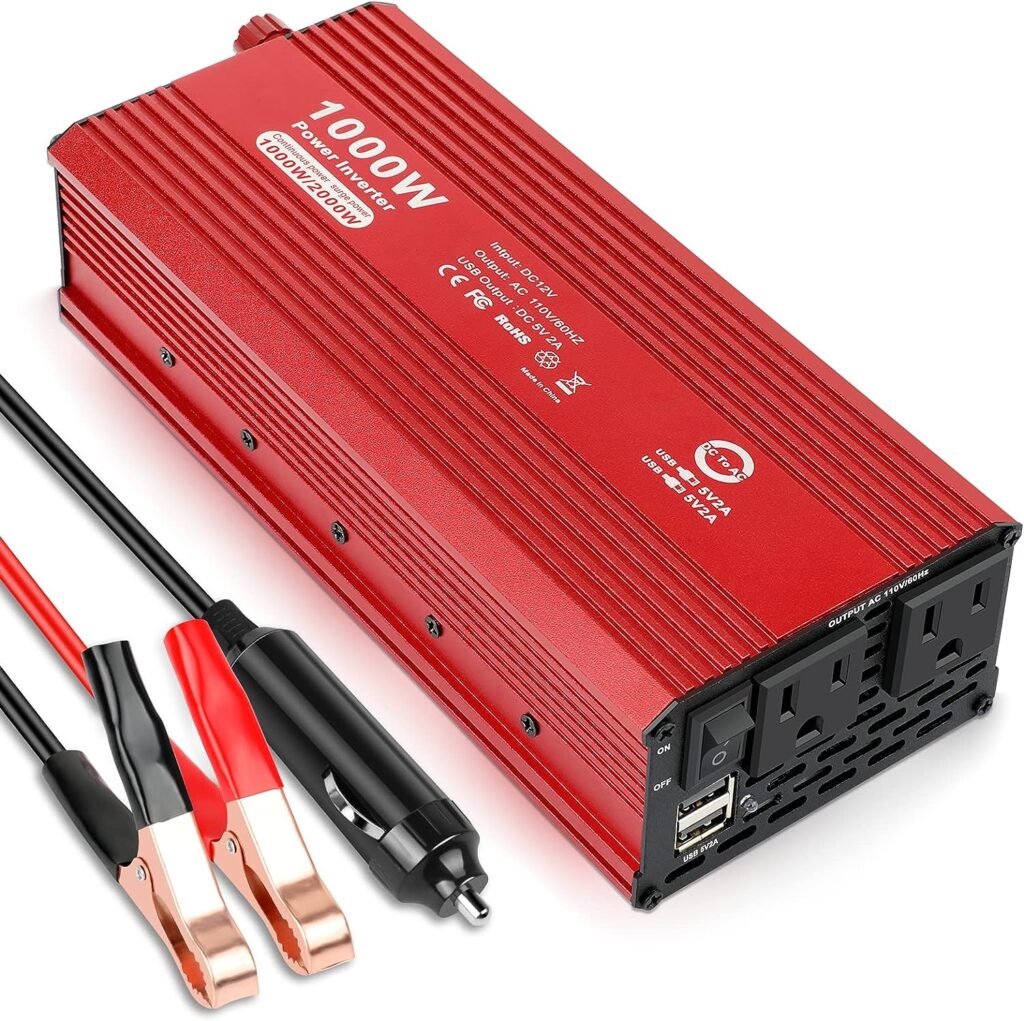 As per the manufacturer, it is a multi-protection unit, which is great for the safety concern. It is highly safe to use because it has a safe charging design, so it is highly protective against all those usual problems like short circuit, over-voltage, under-voltage, over-loads, over-charging and more.
For Many Users, Worked Well
A user wrote in his review that the Fancy Buying inverter worked well. Actually, he needed to run his small coffee maker (650W). The inverter delivered good power to run his coffee machine.
Another user said that he got a good inverter that worked for his purpose. Previously, he used three different inverters, none of them worked for his purpose. He uses this Fancy Buying inverter to run is 650w coffee machine. It did well for his purpose. However, he wished it had a digital display for the voltage reading, but he knew that it was a low-price inverter, so there was not much possibility to have many features.
I read a review written by a disappointed user. The user was disappointed because he used the inverter for just one time to power his car vacuum. It worked well, and after few minutes, the unit got very hot and stopped working.
Therefore, on a conclusion, I would say that the Fancy Buying power inverter has both ups and downs. Please read the pros & cons section, to know it well.
Key Features – Fancy Buying 1000W Inverter
1000W output power
110V output voltage
12V input voltage
4 output sockets (dual 110V sockets and dual USB ports)
10.4 x 5.9 x 2.5 inches product dimensions
2.27 pounds item weight
Safe charging capability
Protective against common electrical problems
Smart cooling fan runs faster when gets warmer.
Battery cables and cigarette lighter plug
Red color
Accessories: battery clamps, cigarette lighter, user manual
12-month worry-free warranty
24-hour email support
The key features of the Fancy Buying inverter are written above. Please read the list of features if you want to buy this 1000W inverter. In my view, it is a normal power inverter, so you should not expect advanced features. You can see it lacks a display feature, which is expected in such a low price inverter.  I do see that it is a lightweight inverter that can be the best unit for travelers and campers. It comes with all the required accessories, so you don't have to buy them separately. Most importantly, it carries a 12-month warranty to give you some relief.
PROS
It delivers good output power.
Very low price
A well-made product
Many connection outlets to connect multiple devices at the same time
Lightweight and portable
It comes with all the accessories.
It is highly recommended for road trips, camping and travel.
Very stable performance
Solid connection and easy setup
CONS
The fan is a bit noisy, which is acceptable in such a low price.
The terminals (positive and negative) are not placed at the right location.
It lacks a display screen.
You can read the pros and cons of the Fancy Buying 1000W inverter. I see it has many pros, so it is a good power inverter to buy. It delivers the rated output power, as many users are happy with the load it handles. It delivers a stable performance and it is a well-built unit with many good features. On the downside, the inverter lacks a digital display, so you will not be able to see the voltage and wattage information. Some customers complained that the fan is a bit noisy.