Dokio 220V foldable solar panel kit seems like a good product because it has received good ratings on Amazon. According to the product description, the solar panel has Mono-crystalline solar cells, which are highly efficient to produce energy. It also features USB ports to charge USB-based devices.
The foldable Dokio solar panel is easy to carry because it features handles for an easy carry. From this solar panel, you will be able to charge 12V batteries and power stations.
In case, you plan to buy a portable and lightweight solar panel, you can go for this Dokio 220V solar panel. The lightweight solar panel is only 0.9-inch thick and weighs just 9lb. You will not have any difficulties for mounting, transportations, hanging and convenient placement.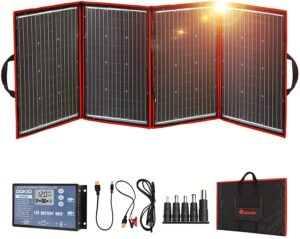 Easy to Setup Solar Panel Is Good for Outdoor Activities
In fact, the Dokio 220V solar panel is very easy to install; plug and play. You will not need any extra tool to charge the batteries. It directly charges any 12V batteries with its 18V optimum power. Most importantly, the solar panel is highly protective against short circuit, overcharging, overload and other electrical deficiency.
According to the manufacturer, the Dokio 220V solar panel is the perfect energy generation tool for the outdoor electricity requirements and emergency power requirements. You can find a 9.85 feet cable, which is attached with the unit. You can use this cable to connect with power stations such as Jackery, Goal Zero, EcoFlow, Paxcess and many types of 12V batteries.
The DOKIO 220W solar panel can quickly charge your battery because it has good energy conversion capacity, thanks to the monocrystalline solar cells. The solar pane is capable to deliver good power conversion efficiency because it reduces mismatch loss.
Features & Specifications
220W output
Perfect for many batteries such as Gel, Lithium ion, AGM, LifePo4, lead-acid, deep cycle, RV batteries, car batteries etc.
The 220W solar panel is compatible with many power stations like PAXCESS, Jackery, Rockpals, FlashFish, Goal Zero and others.
Highly safe to use because the CE certified solar panel is highly protective against overheating, overcurrent, short circuit and overload
The monocrystalline solar cells are highly efficient up to 23% higher than other conventional solar panels on the market.
On the purchase of DOKIO 220W solar panel, you get the related accessories like 20A control, approx. 10 feet cable, cable with XT60 to alligator clip, JY60 to DC cable, 5 x DC conversion adapters.
Pros
Lightweight and thinner solar panel
Very durable
Easy to move around
Low price
It comes with all the required accessories.
Good quality charge controller
Cons
According to many users, the solar panel failed to deliver the rated power.
Low quality metal loops
It does not have a stand to angle towards sun.
The thin and lightweight solar panel can blow in wind.
Low quality cables and other accessories
You can see the pros and cons of this DOKIO 220W solar panel. It has both pros and cons. The price is very good but the performance is not good. Therefore, I will not recommend buying this product.
Conclusion
In short, the DOKIO solar panel has received mixed reviews. It has both positive and negative reviews. While the DOKIO 220W solar panel comes at a low price but it fails to deliver the rated output. It comes with low-quality accessories. The users faced difficulties for the placement and installation. I will not recommend buying this product. In case, you want to buy it, please research more on this before you click on the BUY button.