Bluetti SP200 200W solar panel looks good from all aspects such as conversion efficiency, durability, portability and compatibility. The 200W solar panel works with many power stations such as AC200MAX, AC300, AC200P, EB70, AC50S, EB150 and EB240.
As mentioned above, the Bluetti solar panel has high efficiency of up to 23%, which is considered greater than typical solar panels on the market. The monocrystalline solar panel has good 95% transparency and it is much better than polycrystalline solar panels.
The Bluetti 200W solar panel is highly compatible with many solar generators on the market. Therefore, please know more about Bluetti SP200 200W solar panel because it will not disappoint you.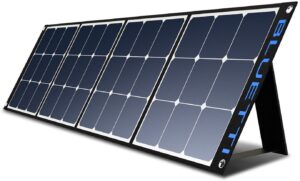 Highly durable – the solar panel is very durable because the high-class laminated technology has been used to make this solar panel. In addition, high-class ETFE material is used on the surface that make it more durable than others on the market. To let you know, the Bluetti solar panel is waterproof, splash proof and scratchproof.
Foldable and portable – it measures 20.7 x 20.5 inches when folded and it weighs just 14.3lb. With this BLUETTI solar panel, you will not face any difficulties for the installations. Users of this solar panel get good result if they used only BLUETTI products. Therefore, please use this solar panel with BLUETTI solar generators. A user manual is included so please refer to the user manual to understand its features, installation requirements and other things.
Highlights
Waterproof, splash-proof and scratchproof
200W output
High light transmittance up to 95%
Foldable design: weighs 14.3 lbs and measures 20.7 x 20.5 inches
9.8 feet cables
Monocrystalline solar cells
Open circuit voltage: 24V
11A short circuit current
25°C module temperature
Operating temperature: -10°C to +65°C
ETFE material used for the best outdoor use
Advanced laminated technology
IP65 rated junction box (waterproof and dustproof)
Compatible with many power stations on the market
Pre-drilled holes on the panel for easy installation
Perfect for RVs, overlanding and other outdoor activities
Main features of BLUETTI 200-watt solar panel have been mentioned above. From the above list, I am able to see many good things such as monocrystalline solar cells, foldable design the waterproof capability. Please scan all the items listed above because they give a complete picture of the product.
Pros
Solid and well-made solar panel
Durable and high-performance solar cells
High-grade, long cables
Very thin and compact
It is mountable as it has mounting homes.
Easy to install and use.
A high-quality solar panel without any doubts
It can stand-alone. Or it can be hung by the side.
The solar panel features carrying handle for a convenient carry. Therefore, it is highly portable.
200W output capacity is a good amount of power for most users.
Cons
It does not have a USB port to charge some of the small devices.
It is a little more expensive than others on the market.
Conclusion
To conclude, I will say in one-word that it is a buyable product. It has too many pros and a few cons. If you need to buy a 200W good solar panel then go for it. The solar panel is made of high-quality material and it is waterproof, dustproof, splash-proof and scratchproof. The 200W solar panel is compatible with most solar generators available on the market. However, I admit that the product price is a little higher than others are.