For a low price solar water pump for bird bath, please read Mademax Solar Bird Bath Fountain Pump Review. It is a great low price product that comes with many awesome features. It has a 7V solar panel with 1.4W capacity. The solar panel diameter is 16 centimeters. And, the max pump output capacity is approx. 160 liters per hour.
This is a well designed solar water pump that stays at the middle of the water.  The random movement is greatly reduced to keep it at the middle of the water.  Also, it is a well-designed product for spraying within the bird bath area, so it will not spray outside the bird bath to save water. So, in short, I would say that a great mechanism has been used, and it is optimized well to make it efficient, useful and practical.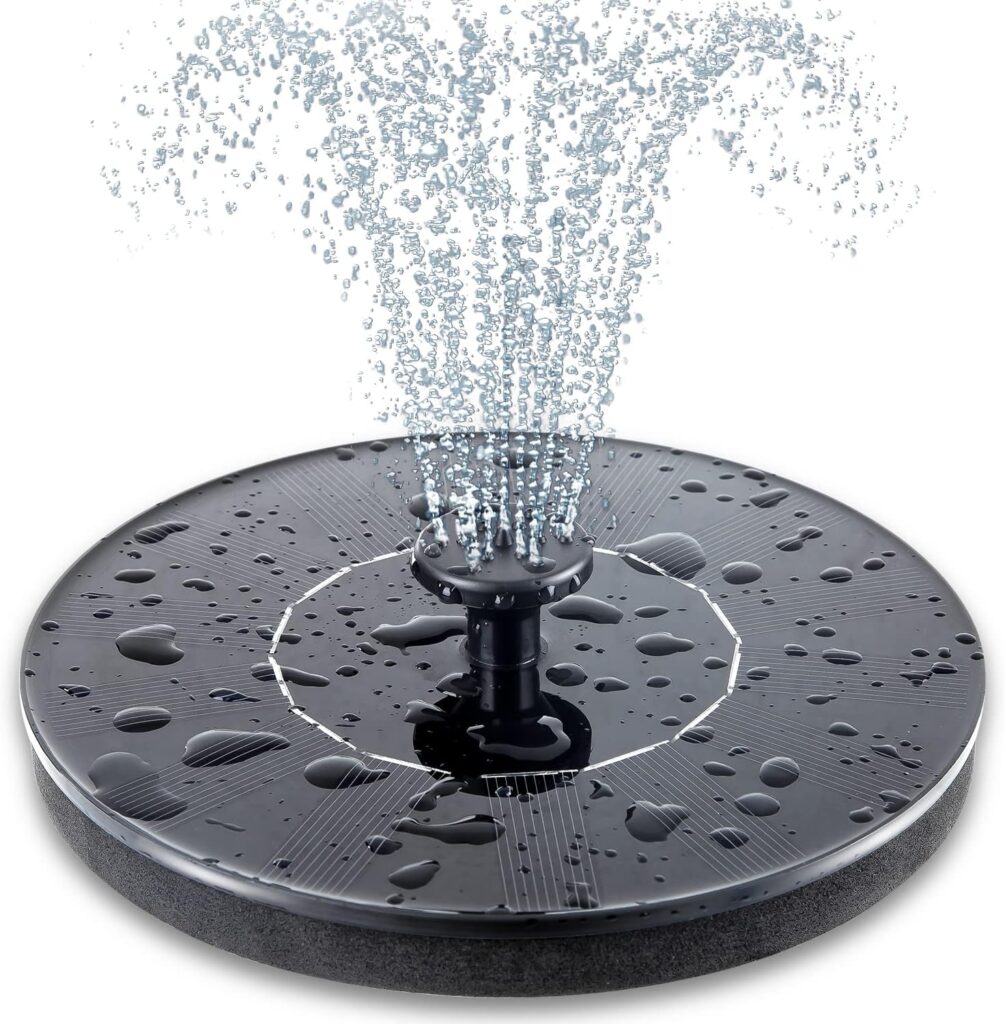 Since it is a low price product, you should definitely go with it. I am able to see that thousands of units are sold only on the Amazon website, which is a great sign of its high popularity.
Six different nozzles – the Mademax Solar Bird Bath Fountain Pump gives you six different nozzles, which are a great way to change the water flow style as per your preference. With the preferred water flow style, your garden would look as per how it should look.
Easy to use – the MadeMax solar water pump is a convenient product in terms of the ease of use as you don't have to do many things to keep it working. You just need to put the water and that's it. It will start working automatically depending on the sunlight availability.
Runs Even the Water Is Drained
A user was quality happy with this MadeMax solar water pump but he didn't like one thing, which is it keeps running even in a dry bird bath. Actually, before ordering this product, he didn't realize the fact that it runs even the water is gone. Now this user decided to upgrade his bird bath with a solar water fountain that shuts off based on the water level. And, he didn't recommend this product to others for this reason. Of course, other than the continuous running issue, it is a decent water pump.
Another user wrote in his review that he was disappointed with the product because it stopped working after a month. It was not a returnable product as per his statement. After contacting the seller he was advised to give it a shake. He did the same and it started working. Therefore, he was quite happy with the customer service. Further, he liked the little arms that kept the unit in the center of the fountain. He said that this capability was not available in his previous unit.
Key Features – Mademax Solar Bird Bath Fountain Pump
1.4W solar panel capacity
16 centimeter solar panel diameter
DC 4.5V to 10V brushless pump input
160 liter / hour maximum pump flow
70 centimeter max water spray height
Black color
Plastic material
8.1 ounces weight
70 centimeters max lifting height
6.3 x 6.3 x 0.55 inches product dimensions
Included components: solar fountain, exclusive fixer, nozzles and user manual
Made in China
MadeMax brand name
AS10B model number
Mademax Solar Bird Bath Fountain Pump Review shows you the key features written above. Please know that it is a Chinese product, so it is a low price product but has average features. If you do the maintenance work well it may last for a long time as well. Also, please know that it is not a battery operated product as it runs on the solar energy so it will work during the day only. Based on the product weight and size, it is a quite lightweight product so it is very easy to use and handle.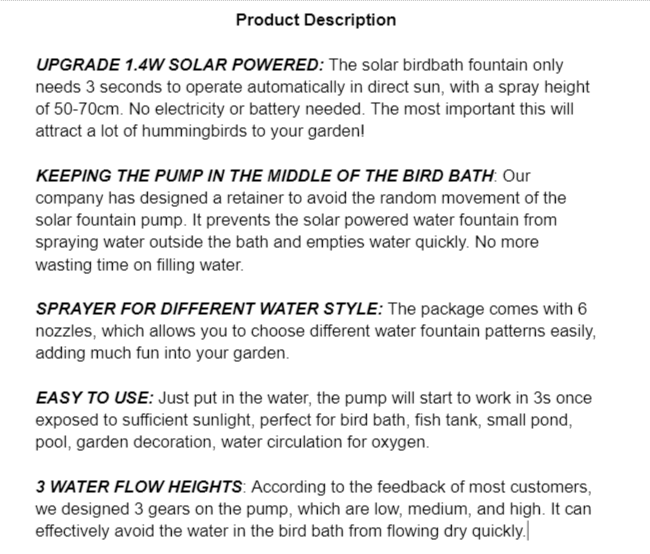 PROS
Good customer service
The little arms are good to keep the unit in the center.
Good size diameter
Very low price
It looks great in the bird bath.
Easy and simple functions
Versatile fountain
Nice sprays with different nozzles
CONS
It floats in the water so a little wind may move it around.
In a cloudy day, it may not work well.
Mademax Solar Bird Bath Fountain Pump has pros and cons both but it is a great and affordable product based on the pros it has. The solar fountain is very easy to use and versatile too. It looks great in the bird bath. The size of the diameter is also very good. The MadeMax solar water pump has little arms to keep the unit at the center. Of course, it can be a good product to attract birds. Most importantly, it is a highly popular product, so you are going to buy a product which is already being used by thousands of people. Please make sure that it needs a direct sunlight to run properly.