If you are looking for a low wattage power inverter, EGO Power+ 150W Power Inverter can be the best unit for you.  I am suggesting this Nexus Escape inverter based on the popularity it has received. Yes, it is one of the highly popular inverters that can charge devices under 150W electricity requirement.
The high popularity can be known by seeing the ratings on Amazon and some other websites. Surprisingly, it has more than 4000 ratings; most of them are 5-star ratings. So, EGO Power+ PAD1500 is undoubtedly a powerful and popular power inverter. Also the price is very affordable. You will be able to buy Nexus Escape Inverter by paying less than $100.
More importantly, EGO Power+ PAD1500 is available in different varieties; most of them are with battery pack. However, this EGO power inverter does not come with a battery; you can buy one separately as well. In fact, it is highly recommended to use an EGO Power+ battery with this power converter.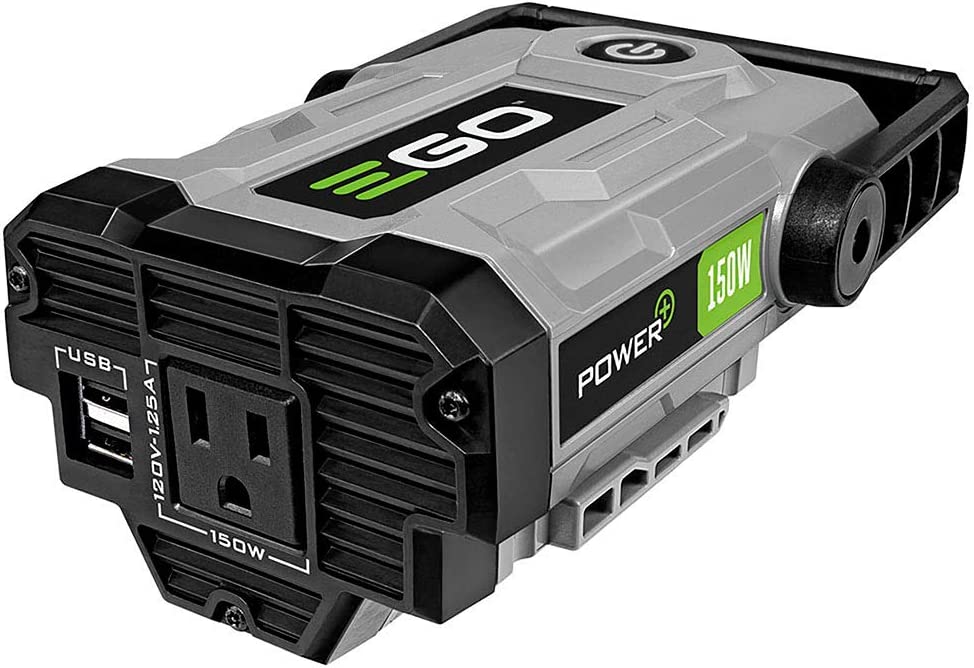 For connecting devices, it has a 120V AC outlet and dual USB ports. You can use these connection methods to link your devices. Please always remember its rated output, which is 150W. So, you are free to connect multiple devices. Please make sure that the total electricity consumption does not exceed the rated output limit of 150W.
From the manufacturer, it is recommended to use a 7.5 Ah ARC lithium battery. The power inverter has a capacity to charge up to 5 laptops as it has 150W power output capacity. You can connect your laptops, phones, TVs and other devices undoubtedly.
Key Features & Specifications – EGO Power+ PAD1500 150W Power Inverter
| Product name | EGO Power+ PAD1500 |
| --- | --- |
| Brand | EGO |
| Model number | PAD1500 |
| Output power | 150W |
| Output sockets | 1 x 120V AC outlet and 2 x USB ports |
| Product dimensions | 7.3 x 5 x 2.9 inches |
| Item weight | 1.81 pounds |
| Country of origin | China |
| Cooling system | YES (Revolutionary cooling technology) |
| LED display | Yes |
| Power meter | Yes |
| Price | Check on Amazon.com |
EGO Power+ PAD1500 150W power inverter has all the features that facilitate easy device charging. It has one AC 120V socket and two USB ports to charge multiple devices at the same time. For the cooling related thing, the EGO inverter uses a revolutionary cooling technology, so you will not experience temperature related issues from this inverter. And, it has appropriate indicators and LED display that work for alerts and live status.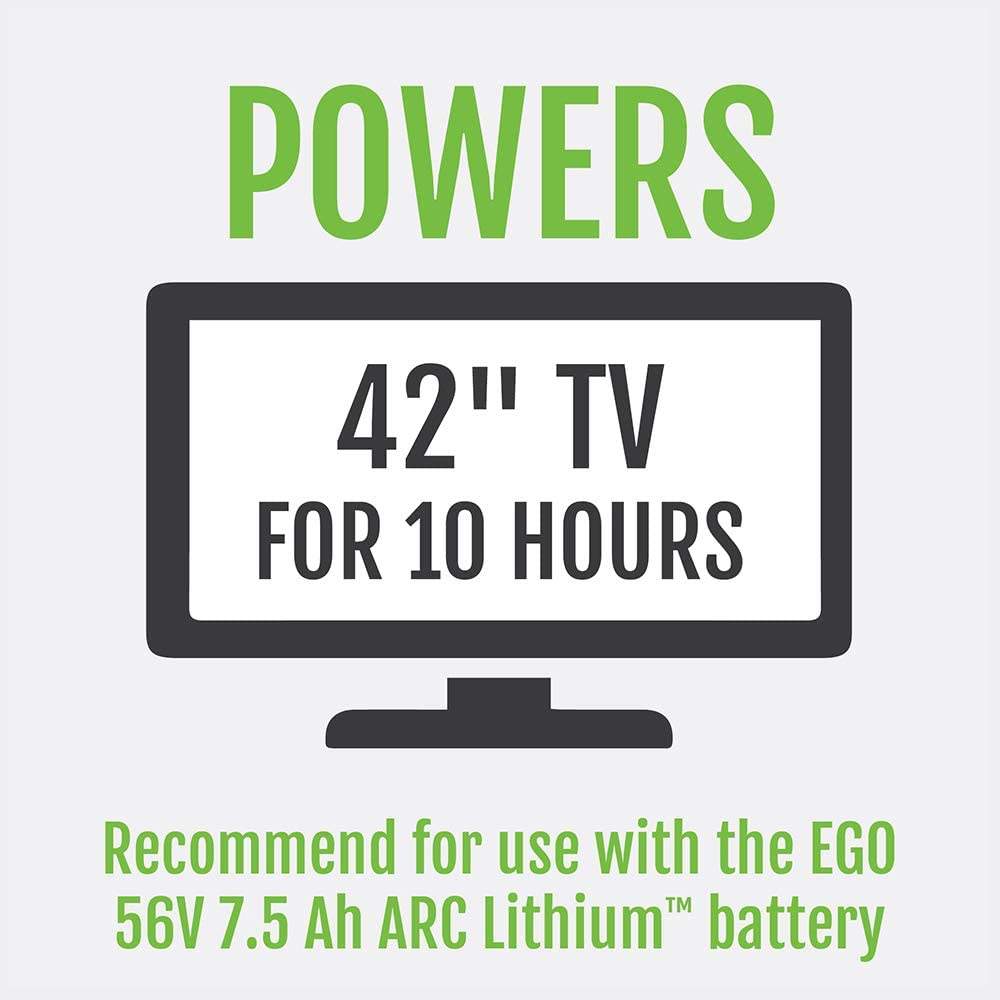 EGO 150W Power Inverter – Square Wave Output
In fact EGO is a big name to make a wide range of inverters and power tools. Amazingly, EGO batteries are also available to buy.
From this 150W inverter, you receive clean electricity, which is good for charging all those sensitive electronics. Of course, the 150W rated output is a bit low but you are free to go with a bigger inverter with the high wattage.
As mentioned earlier, EGO Power+ PAD1500 is available in many varieties with compatible batteries too. These EGO brand power converters are based on a smart power management system and cutting-edge cooling technology to ensure the best performance.
EGO ARC Lithium Battery – although EGO 150W power inverter does not come with a battery but other EGO inverters with high wattage are a pack with a battery. So, you are able to use these high grade EGO batteries if you plan to buy a high output EGO inverter.
Pros
Well-built
Competitive price
Good popularity
Multiple connection outlets
Good for charging laptops and other small electronics
Provides clean power
Works with EGO batteries
Dependable
EGO products are highly rated.
Good size
Acceptable USB charging speed
It is good for campers to power air mattress, laptops and other tools.
Cons
Battery and charger are not included.
A bit noisy
It does not have a remaining capacity indicator.
The power meter does not give detailed information.
Pros and cons of a product give a real picture, so pros and cons are very helpful to know a product from a user's point of view. Adopting this concept, I researched and wrote the key pros and cons, which are displayed here. I will highly recommend considering these pros and cons if you want to buy the Nexus Escape 150W power inverter.
The 150W EGO inverter is made in a good size, so you will not have an issue to go with it when you travel. More importantly, it is a dependable power converter as you will not get an issue related to its rated output capacity. And, it is an EGO product, so it is a good product because most of the EGO devices are highly rated. In fact, users love them.
On the downside, the EGO Power+ PAD1500 inverter is a bit noisy and it lacks some useful indicators including a remaining capacity indicator. It does have a power meter but it does not give detailed information.
Conclusion – EGO Power+ PAD1500 Inverter
The conclusion section is a vital part of a product review, so I wrote this conclusion section to let you know about this product in just few lines.
In short, it is a capable power inverter because it gives you the rated 150W output to charge your electronics. Impressively, it is a reliable product too that is compatible with the EGO brand batteries. In fact, it is highly recommended using an EGO battery for receiving the best performance. EGO Power+ PAD1500 150W Power Inverter Review may be helpful to you. If it was helpful, please let me know via the comment form.