You are going to read this Wagan power inverter review, which will give you information collected from various users' reviews. Of course, all users' reviews may not be true as some of them would be false too but for this I use my own sense to detect genuine reviews.
Before I write the likes and dislikes of this Wagan 12v inverter, please let me give you some basic information based on its specifications and the product descriptions supplied by the product creator. Of course, Wagan may not be as popular as Bestek and other popular power inverter brands but it is also a good brand for making high-capacity inverters for various uses including the commercial use also.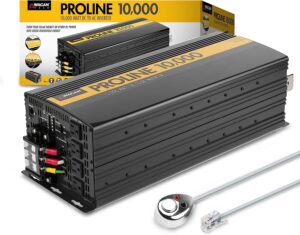 One thing more is that the same model number, i.e., EL3748 is available in 24V also. Therefore, you have to decide which one is suitable for you, the 12V Wagan power inverter or the 24V inverter.
Wagan EL3748 is a 10000-watt power inverter with 2000W peak power.  The 12V power converter from Wagan can be used for various purposes like camping, RVing, homes, out station electricity requirements, emergency power requirements, van life and more.
This power inverter looks very solid in a black color and it is naturally a heavy-duty inverter too. So, please don't think that it just looks heavy-duty. In reality, Wagan EL3748 is a solid power converter. And, not only is the 12V Wagan inverter, but also the 24-v power inverter is solid enough.
Modified Sine Wave Lightweight Power Inverter
Before I write about its safety features and other features please let me tell you that it is not a pure sine wave power inverter, instead it is a modified sine wave power inverter. However, pure sine wave inverters are better than modified sine wave inverters in terms of smooth current flow. But, I have to tell the reality too. Well, all modified sine wave power inverters are not bad in terms of smooth current flow as it totally depends on the mechanism and the product quality. Of course, this power inverter is very good for general electric conversion requirements.
Size – as per the Wagan inverter manufacturer, Wagan EL3748 is 50-percent smaller and 48-percent lighter than previous models. Therefore, it comes in its improved form because it is lighter and smaller than the previous Wagan power inverters in the same capacity. Of course, size and weight make a lot of difference if the inverter is used out of homes because they facilitate easy transportation, storage and ease of use.
Key Features & Specifications
Product name – Wagan EL3748
Input voltage – 12V
Output voltage – 120V
AC outlets – 4
Cooling fan – Yes
Remote switch – Yes
Auto-restart – Yes
Certifications – CE & RoHS
Sine wave – Modified sine wave
Wattage – 10000
Color – Black
Item weight – 21.5 lbs
Availability – View on Amazon
Wagan EL3748 is a feature-rich power inverter. Most of the features and specifications are written in the table above. You can see it has 10000 watts output power, four AC outlets to power household devices and it is a CE and RoHS certified product.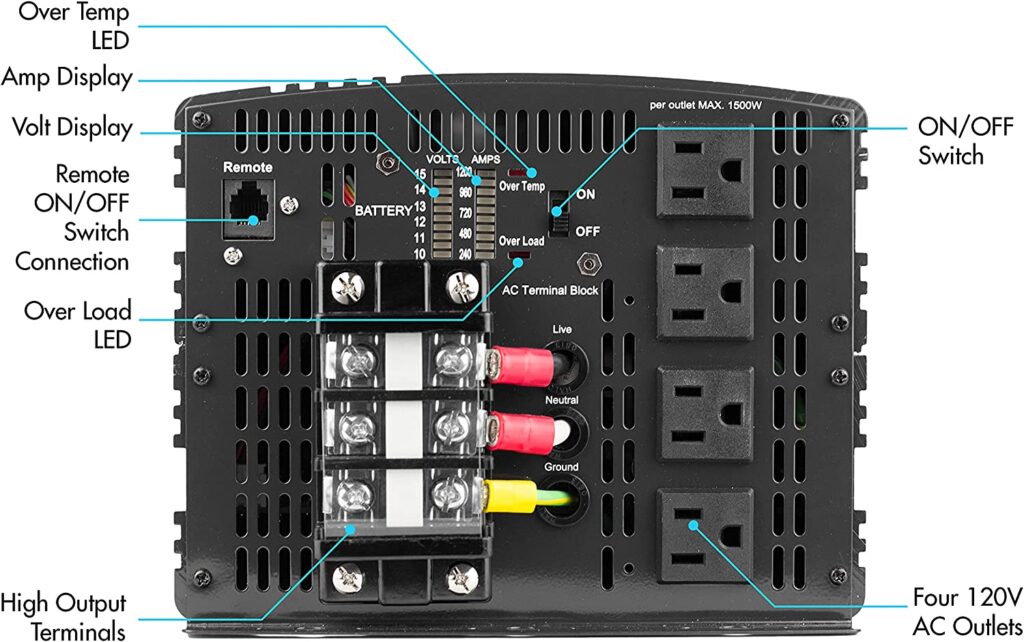 Highly Safe and Reliable
Circuit board – Wagan EL3748 12-volt inverter is based on the latest circuit board, which is SMT (Surface Mount Technology. The latest circuit board is highly reliable and efficient because it has RF emissions fewer than the traditional circuit boards such as PCB (Printed Circuit Boards) as well as the through-hole boards.
Safety features – when it comes to the safety of the Wagan power inverter, it has many safety features like short-circuit, low battery protection, over-load protection, reverse polarity protections and temperature protection. With all these built-in safety features, the 12v power converter is capable to deliver the best performance. The power inverters are built using the best quality elements and MOSFET transistors, which are very helpful to make it a reliable power inverter.
AC outlets – the 12v power converter features four AC outlets. These are powerful AC outlets for the high amount of current transfer. It also has heavy-duty mount terminals and remote power switch. As per the manufacturer, the power inerter fits universally and it is protected with a 24-month warranty as well.
Pros
Very easy to install
It is good for commercial applications too.
Wagan EL3748 is good for running several home appliances too.
Great for running several power tools as well
Some people are using the inverter with 600W solar without a problem.
Great safety features and the circuit board
Cons
Users wished that the remote should have been a little longer.
Some users received defective products.
Since the Wagan EL3748 12V inverter is not very popular on Amazon so I was not able to extract many pros and cons. However, I managed to extract some pros and cons which are written above. The 12v power converter is very easy to install and it is a highly safe inverter because it has many safety features to get rid of common electrical and temperature issues. As per the pros, it is very good to use for a commercial purpose as well as household purpose as you can easily run various home appliances using this 10000-watt power inverter. You can also connect it with a solar panel as per your requirements.
Conclusion – Wagan EL3748 Power Inverter Review
At the end of Wagan EL3748 Review, I will say that it is a solid power inverter that sells on Amazon. However, it lacks many reviews and ratings so I can say that it is not very popular. However, it delivers a good performance as per many users' reviews. One thing to note here is that it is not a pure sine wave inverter; it is a modified sine wave power inverter instead. As far as the value for money, it may not be the best product for the money you pay because it has also attracted some negative reviews too. So, please research more on this before you click on the buy button.