The Stanley 500W power inverter looks very impressive in the slim design it has gotten but it may not be a powerful unit. Please read the Stanley 500W power inverter review to find out the truth.
First, please let me introduce you with the key features available in this unit. The unit has multiple connection sockets like 2 x AC 110V sockets and 2 x USB ports (3.1A capacity). It is a typical 12V DC to 110V AC power converter and it comes with battery clamps being a car power inverter. You can use the battery clamps for the direct connection between this adapter and your battery if you plan to consume high loads.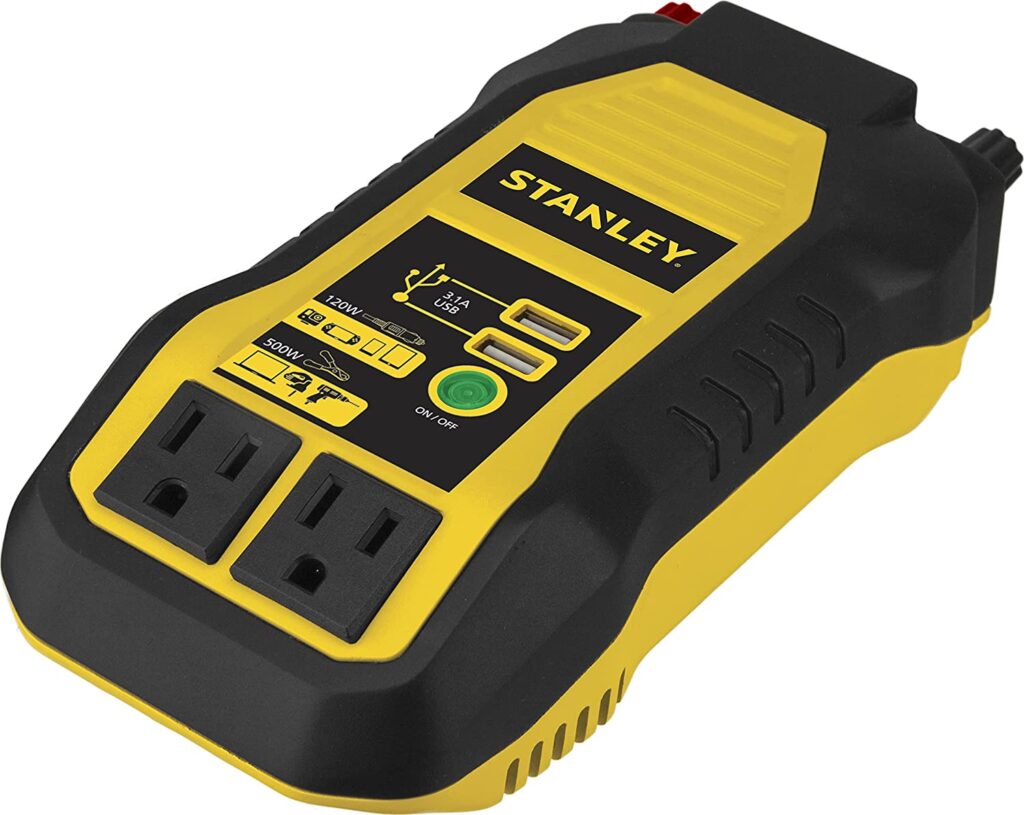 Whether it is powerful or not, I will discuss later but one thing is sure that it is a low-price unit so you are not going to lose much here. Please keep reading the inverter review to know the facts. In fact, the product manufacturer says that it is a good power converter for homes, offices, jobsites, worksites and emergency power requirements.
Handy Power Converter by Stanley for On-The-Go Use – Good Protection Features
STANLEY PI500S is good for on-the-go power because it is a lightweight unit. It is made in an ergonomic design that feels and looks good. It has the capabilities to charge four devices simultaneously. If you want to use the total 500W power, it is recommended to connect the clamps to your vehicle battery or other batteries to charge your electronics. In case, for a low amount of electricity requirement below 120w, you can use your car's 12v DC adapter as well.
For charging four devices at the same time, the Stanley 500W power inverter has dual 120V AC outlets and dual 3.1A USB ports. You can use these connection sockets to run your devices like Smartphone, laptops, tablets and other electrical tools.
Protection features – for the protection, the Stanley power inverter has a built-in indicator that warns you when the vehicle battery reaches at the low level. Further, it has over-voltage protection that is very helpful to avoid the fuse blown. The 12V power inverter has a status indicator too. It gives you a quick glance of the live status of the inverter. More importantly, the Stanley power inverter has gotten a heavy-duty construction, which is good for the heavy-duty uses. As I am talking of the protection capability, please let me tell you that this car power adapter is protected with a one year warranty too. Yes, you get full one year manufacturer limited warranty for the peace of mind.
Key Features & Specifications – STANLEY PI500S
| Product name | STANLEY PI500S |
| --- | --- |
| Output wattage | 500W |
| Input voltage | 12V DC |
| Output voltage | 120V AC |
| Number of sockets | 4 (Dual 3.1A USB ports, dual AC 120V outlets) |
| Brand name | Stanley |
| Model number | PI500S |
| Built-in battery protection | Yes |
| Item dimensions | 4 by 8.5 by 2.2 inches |
| Color | Yellow |
| Country of origin | China |
| Warranty | Limited one year warranty |
| Price | View on Amazon |
A comprehensive list of features and specifications has been written. As per the spec list, the Stanley 500w power inverter is made in China. The dimensions are 4 x 8.5 x 2.2 inches and it looks attractive in a yellow color. This product is protected with a limited one year warranty. The total rated output power is 500W. It converts 12V DC battery power to 120V AC useable current to run several devices.
Very Good Power Inverter, Good for Camping
For numerous users, it worked as described. Some of the users used this Stanley power inverter in camping to charge their devices. They are very happy because they are able to charge their phones from the car battery electricity. As per some users, the Stanley 500W inverter is even cheaper than buying from an offline store. They say that it is a good value for the money because it does the job.
Of course, it is a very handy tool because it is easy to use compact size power inverter.
On the other side, some users mentioned that it worked but failed to give the full 500-watt output power. Also, they experienced that the alarm goes off at any kind of power fluctuation like starting the vehicle or trying to charge a cordless drill battery.
Pros
Very nice unit
Very handy power converter
Compact and easy to use
It gets the job done.
Good price
It can be a good camping helper.
Cons
The cable connectors are not very good; they fit loosely.
For some users, it failed to give the rated 500W output.
Many users are not happy because it stopped working after few months.
Some users faced problems with the 120V AC sockets.
A cheaply made product
Pros and cons are the main indicator to show an overall picture of a product. Therefore, I try to write pros and cons in every product review. These pros and cons are directly from the users' reviews.
The Stanley 500W car inverter has both pros and cons. It has many pros like compact size, good price, nice look and it is a great unit for the camping use. On the down side, the 12V power inverter has many negatives. First of all the cable connectors are low-quality connectors they fit loosely. More importantly, the power inverter failed to give the rated 500W output. It is good for a small amount of power consumption; many users have complained that it failed to give the output power as claimed by the product creator. Additionally, many users complained that it is a cheaply made product. However, it is a low-price product so you can't expect much from this unit.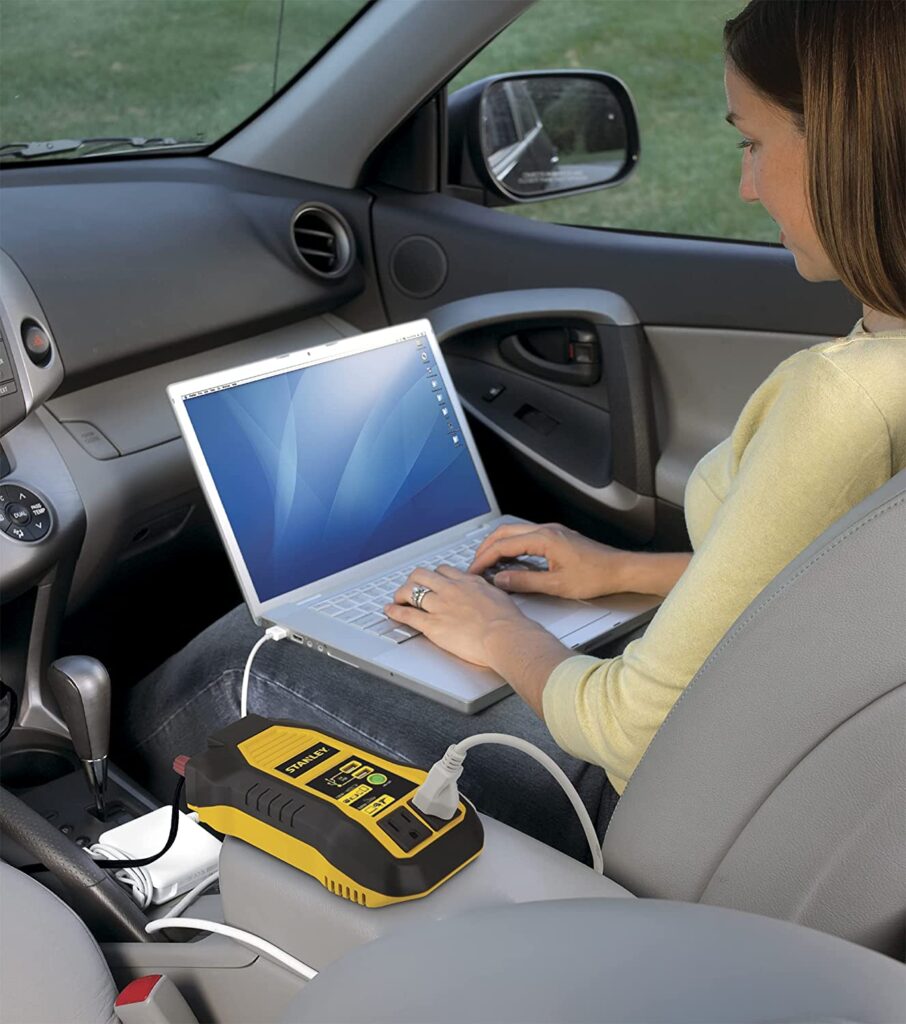 Conclusion – STANLEY PI500S Inverter Review
At the end, I will say that it is not a very good car power inverter. There are many reasons such as it is made of a low quality plastic material so it is not very durable. Additionally, the 500w Stanley power converter failed to give the rated 500-watt output electricity. The Stanley inverter has created many unhappy users because majority of the users are not happy with the unit. Of course, it is a lightweight and beautiful inverter that sells at a low price but it fails to work for the main purpose it is made for. Therefore, I will not recommend buying this product. If you want to buy it, please research more on this before you take the final decision.