Please read GREANTECK 4000 Watt Modified Sine Wave Inverter Review, if you want to buy from a new brand. Yes, GREANTECK seems a new Chinese brand. There are both pros and cons of buying a new brand product. The main pro is that a new brand product often sells at a low price. And, the main con is that you can't know about the performance as the product lacks users' reviews.
Personally, I feel that it is a good 4000W power inverter, which can be used in vehicles like cars, RVs, boats and more. I read some reviews and found that it was not so bad. It would pay more than what you pay for it.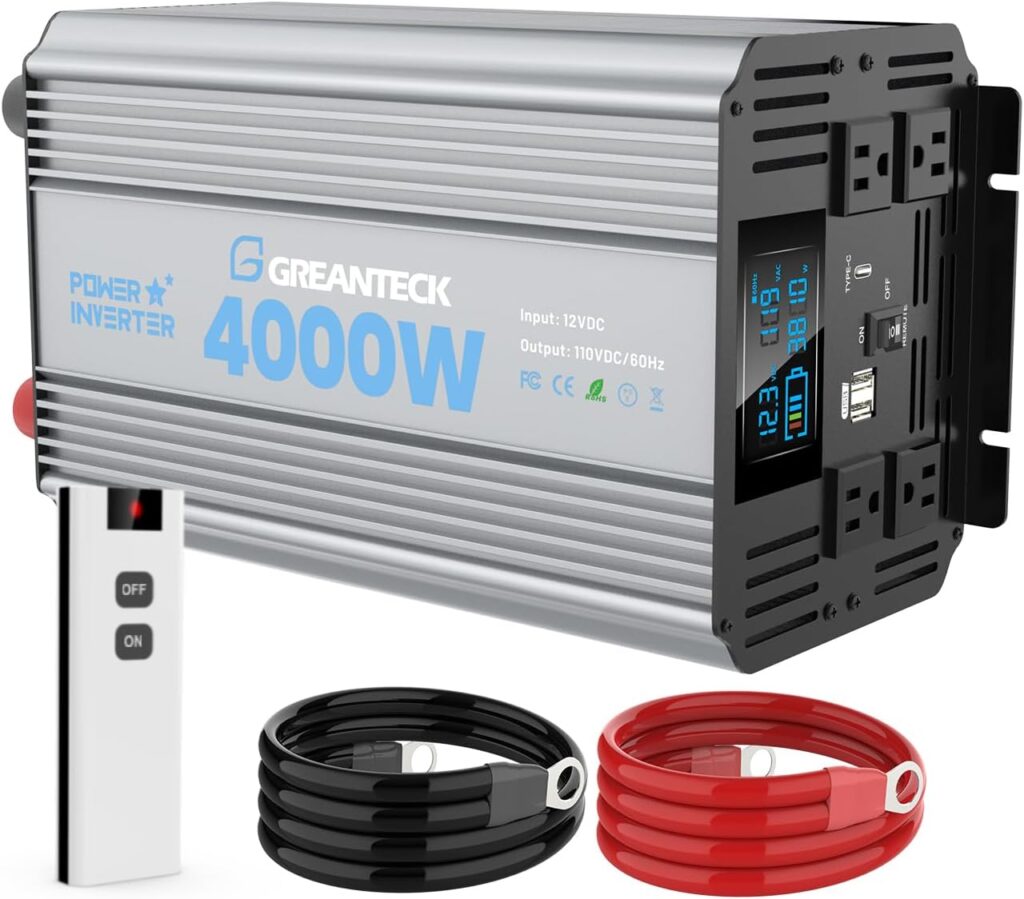 Well, the manufacturer says that the GREANTECK 4000W inverter is a powerful and stable inverter that is designed very well. It would work with almost all types of batteries like GEL, LifePO4, Lead, Acid and more. As per the manufacturer, every component is made with precision keeping quality in mind.
The GREANTECK 4000W inverter is full of features that you need for a convenient operation. It has numerous connection outlets such as 4 AC outlets, 2 USB ports, 1 USB-C port, and it comes with a wireless remote control. The 12V inverter comes with some accessories like fuses, earth wires and wrench.
More importantly, the 12v GREANTECK 4000W inverter is highly protective as it has almost all the protection features. Therefore, the vehicle inverter would surely provide protection against over-heat, short-circuit, under/over-voltage, over-load and other faults. Also, the inverter is designed keeping user friendliness in mind and has sound alert and automatic restart functions.
A Powerful 4000W Inverter
I read review posted buy a user on Amazon. He said that he used this inverter for RV box conversion. The user is able to run a heavy-duty vacuum cleaner, 1000W microwave and a gas dryer without a problem. He said that he was using a 300Ah lithium solar battery, so he was hopeful that it would run a medium-size refrigerator as well. Finally, he recommended this GREANTECK 4000W unit to others with low budget.
Another user said that it was a great inverter for emergency or off-grid use. As per some users, this inverter works well but it may not be a good inverter for some devices because it is a modified sine wave inverter. However, the GREANTECK 4000W inverter was a good deal for most of the users. It comes with everything you need. Please note that the cables are a bit short but these cables may work in most of the circumstances. The main advantage is the multiple connection ports, so you would be able to connect multiple devices simultaneously.
Key Features – GREANTECK 4000 Watt Inverter
4000W output power
12V input voltage
120V output voltage
LCD display
Wireless remote control
Dual fast charge USB ports
USB-C port
4 X 110V AC outlets
90% efficiency
11.33 pounds weight
17.28 x 9.65 x 8.15 inches product dimensions
Sound alert and automatic restart functions
Accessories: cables, earth wire, wrench fuses and wireless remote control
All the key features are written above; please give a look at the features if you want to buy the GREANTECK power inverter. I see the 4000W inverter comes with all the accessories, so you don't have to buy them separately. It has 90% efficiency, which is fine. I liked that the power inverter has numerous connection ports. It also has an LCD display that shows useful information related to voltage, load, temperature and more.
PROS
The inverter is able to handle the load as advertised.
It can run a microwave even not being a pure sine wave inverter.
Many users loved this low price inverter.
It can be an excellent inverter for the emergency and off-grid system.
All the accessories are included.
A well-built unit
It comes included with a remote control, used for turning on/off the unit.
Easy to read display
CONS
It may not be a good inverter for most sensitive electronics.
The cables are a bit short.
The fuses are not replaceable externally.
You can read the pros and cons. These pros and cons are an important part of GREANTECK 4000 Watt Modified Sine Wave Inverter Review. I see it is a great inverter based on the pros and cons it has attracted. The inverter comes included with all the accessories required. It is a well-built unit and comes in a low price. However, the Greantec is a new Chinese brand, so it is not very popular but I think it would surely be the best value for the money.