If you are looking to buy a mid-size inverter in a super low price, please read Sunthysis Inverter Review. I assure you would be a winner. It has many qualities users wish for. Also, I checked various reviews on the Sunthysis 2000W inverter, most of the reviews were good as most users were happy with the performance. Additionally, it is a pure sine wave inverter, so it would run smoothly as if it is running on grid electricity line.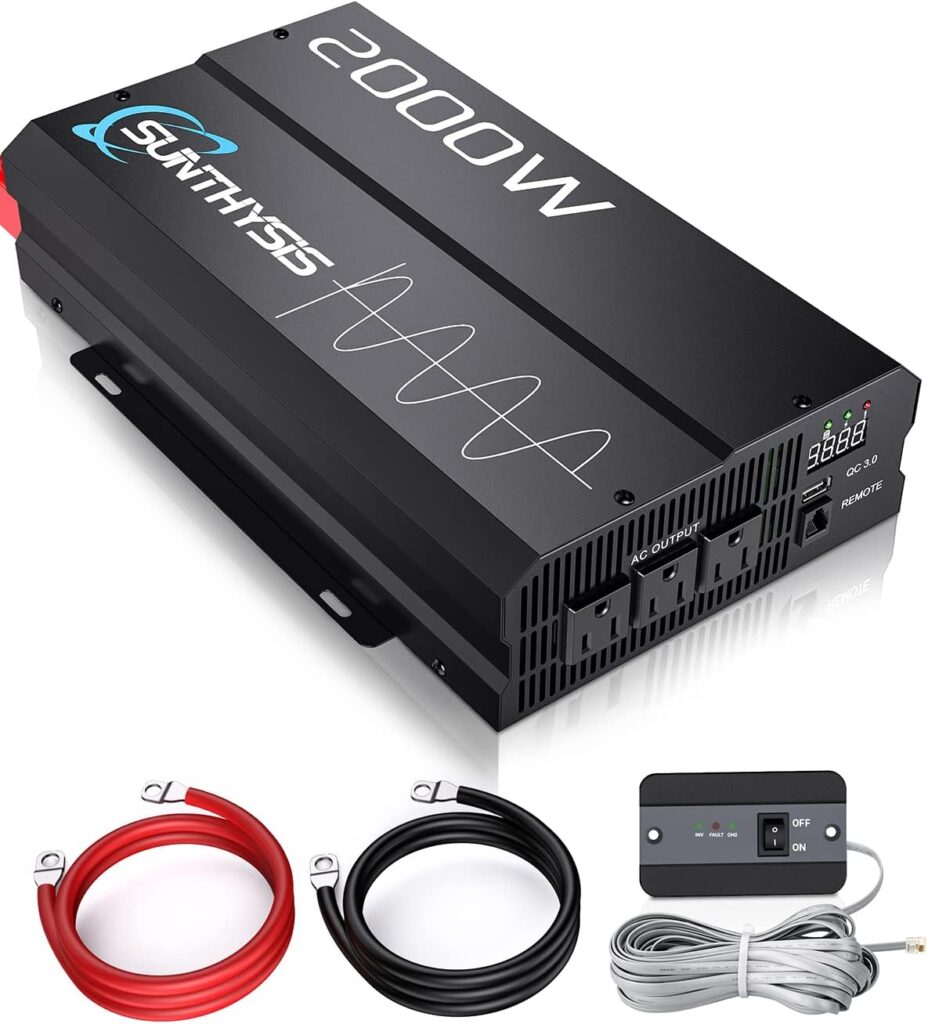 A little about the Sunthysis brand. Synthesis is a quite popular name of a wide range of inverters. It sells inverters all over the world, and it is committed to manufacture high-grade inverters and other electronic products. And, Sunthysis has been in the market for more than ten years. The Sunthysis power inverters are reliable and provide clean power to the connected devices. These units are also very good from the load capacity concern. More importantly, the Sunthysis 2000W pure sine wave inverter is a multi-purpose unit. You can use it in various vehicles, outdoor camping and for emergency power needs.
Great Inverter for the Camping Needs
A user said that he bought this Sunthysis 2000W inverter for his travel trailer with a solar system. In his solar system of the travel trailer, he has used an HQST 190W solar panel, a Victron 75/15-mppt solar controller and 2 Power Queen LifePo4 batteries (100Ah) with this Sunthysis 2000W pure sine wave inverter. Previously, He tried many 2000W inverters, but none of them worked. He said that this Sunthysis inverter worked well as per his requirement. It was very good to power many appliances such as microwave, AC, coffee maker, TV and more in his travel trailer.
He liked the LED display because it showed status related to battery, wattage and fault codes. He was able to see the LED display very easily because he had installed the inverter next to the batteries. As per this user, the remote control was the great feature as he had mounted the remote control and used for turning the unit on or off. As per his experience the Sunthysis 2000W inverter was way better than having a noisy generator. He said that he was very happy with the performance of this pure sine wave inverter as he could run many appliances like a coffee maker, CPAP and other baking appliances.
Highlights – Sunthysis 2000W Pure Sine Wave Inverter
2000W continuous power
12V input power
110V output voltage
3 x AC 110V outlets and 1 x 5V USB port
LED indicator
Pure sine wave output
Increased stronger load capacitor
Pure copper coil
Stable filtering and anti-interference
Terminals are with caps for the added safety
Accessories: remote control, battery cables and instruction manual
19.8 feet wired remote control
3AWG cables
11.8 x 7.5 x 3.2 inches product dimensions
7.17 pounds weight
Sunthysis brand name
IN-2000 model number
In the Sunthysis inverter review, the above mentioned features are an important part, so please read the features carefully. It looks like a powerful unit as it is capable to provide clean power to the attached equipment. Please note that it is a pure sine wave inverter, which is a highly demanded in the market. With a pure sine wave inverter, you would be able to run almost any electronic as the inverter works well with the sensitive electronics. So, whether you have a small appliance or a large appliance, you will be able to power them. Only thing you need to keep in mind is that the connected device should not consume more than the rated 2000W power. Also, it is a remote controlled unit, so you would be able to switch the inverter on or off remotely.
PROS
It handles the rated 2000W load.
The LED display use very useful.
The remote control is very good and handy.
It does not heat like other low price inverters.
Competitive price
A well-built unit undoubtedly
Quick shipping
Very easy to use and hookup
Excellent performance
Very compact
CONS
A user said that it does not have the rated 4000W peak power.
The cooling fan blows toward the AC plugs, so there is a concern about heating the AC plugs.
Based on the pros, the Sunthysis 3000W inverter delivers impressive performance. It delivers clean electricity to the connected devices because it is a pure sine wave inverter. Additionally, it is very easy to use and hookup as confirmed by many users. It comes included with a remote control, which facilitates a remote operation. Most of the users liked the remote control feature. Lastly, it is a solidly built inverter that operates well. And, the good thing is that it handles the rated 2000W load. I hope Sunthysis Inverter Review was helpful to you.