First of all, JJN is a short brand name, so it is easy to remember. Second, it is being a new brand, has created a good reputation on the market. I am saying this because most of its users are delighted with the performance, build quality and the look. Third, it has many varieties of power inverters like JJN 1100W pure sine wave & modified sine wave inverter, JJN 2000W modified sine wave and pure sine wave inverter.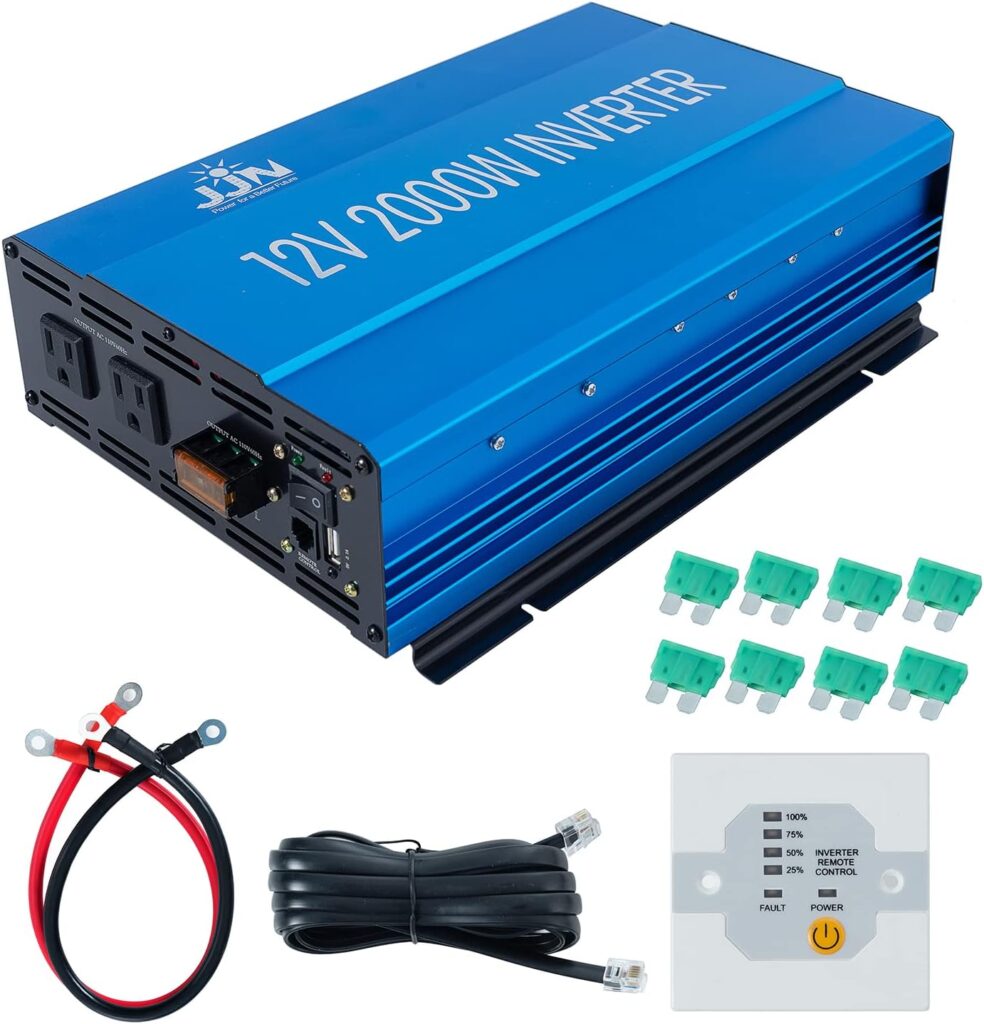 As per the JJN power inverter review, one thing is sure, which is high efficiency. In fact, the manufacturer stated that it has 99.9% efficiency, which may be a bit more than what I think. But I can say that it would deliver more than 90% efficiency, which is not bad.
Next, it is a feature-oriented unit, so you would see almost all the features found in a good inverter. It has a remote controller, aluminum shell, smart cooling fan, fault indicator, on/off switch and more.
Specifications of JJN 2000W Power Inverter
12V DC input voltage
110V AC output voltage
2000-watt continuous power
4000-watt surge power
60Hz output frequency
10V (0.5V +/-) low battery alarm
9.5V (0.5 +/-) low battery shut-off
Modified sine wave waveform
More than 85% efficiency
5V 2.1A USB ports
12.6 x 8.07 x 3.74 inches product dimensions
7.3 lbs weight
The specifications look good. The 2000 watt JJN inverter delivers 4000 watt surge power. It does the current conversion job very well; it converts the 12V battery electricity into 110V AC electricity, which is used further to charge your devices and power large home appliances. Please be careful to the waveform (modified sine wave) because pure sine wave is considered better than modified sine wave. However, a modified sine wave inverter is not bad; it is used to run most of the large appliances. And, the JJN 2000W inverter is a lightweight unit that weighs just 7.3 lbs and measures 12.6 x 8.07 x 3.74 inches.
JJN 2000W Power Inverter Works Great
On Amazon, a user wrote a review about this 2000W inverter. He said that he had an energy setup consisting of a 100W Harbor Freight solar panel, 12V 35-amp battery, 12/24-volt 40-amp controller and this JJN inverter. The battery was fully charged using the solar panel and then he connected his computer to this unit. He regularly operates his computer watching videos and browsing website approx 8 hours daily. This JJN 2000W inverter worked beautifully for his purpose. As per him, it was a good price 12V unit. He highly recommends this unit to those who are looking for a budget inverter.
Of course, the JJN 2000W inverter is a good quality unit. It doesn't take much time for the assembly. It can be the best part of your solar system as well. Many users liked the remote panel too. Of course, it is an easy to use unit without any doubts.
PROS
Delivers good output power
Easy to use
Easy to assemble
Can work with a solar system
Low energy consumption at the idle mode
Solid build quality
Competitive price
It is also good for travel and camping.
Good for emergency power requirements
CONS
New brand
Made in China
Modified sine wave
You can read the pros and cons, which are written above. The unit is a performance house. It has all the features, multiple connectors, remote control, many good features and rich specifications. Of course it is an easy to use inverter, which is great for multiple purposes like using it in travel or camping, using it for emergency power needs and powering home appliances. Please know that it is a modified sine wave inverter, so it may not be very good for sensitive devices. However, users didn't complain about it. Most of the users said that the JJN 2000W inverter is capable to power any appliances they have. I hope the JJN power inverter review was helpful to you.