There are advantages and disadvantages of a product from a new brand. CEJIA seems a new brand to me because it does not have many reviews.  So, it would be advantageous and disadvantageous too. The main advantage is that you buy the product at a reduced price because a new product sells at a good discounted price. And, you don't know if the low-price product may exceed your expectations as well. The main disadvantage that it may be that the product don't work well. If it doesn't work well, you will not lose much because it is a low price product.
I will write more on this product, which would clarify more and you would be able to grab the information, you didn't fine anywhere else. So, please keep reading the CEJIA 3000w inverter review to know more.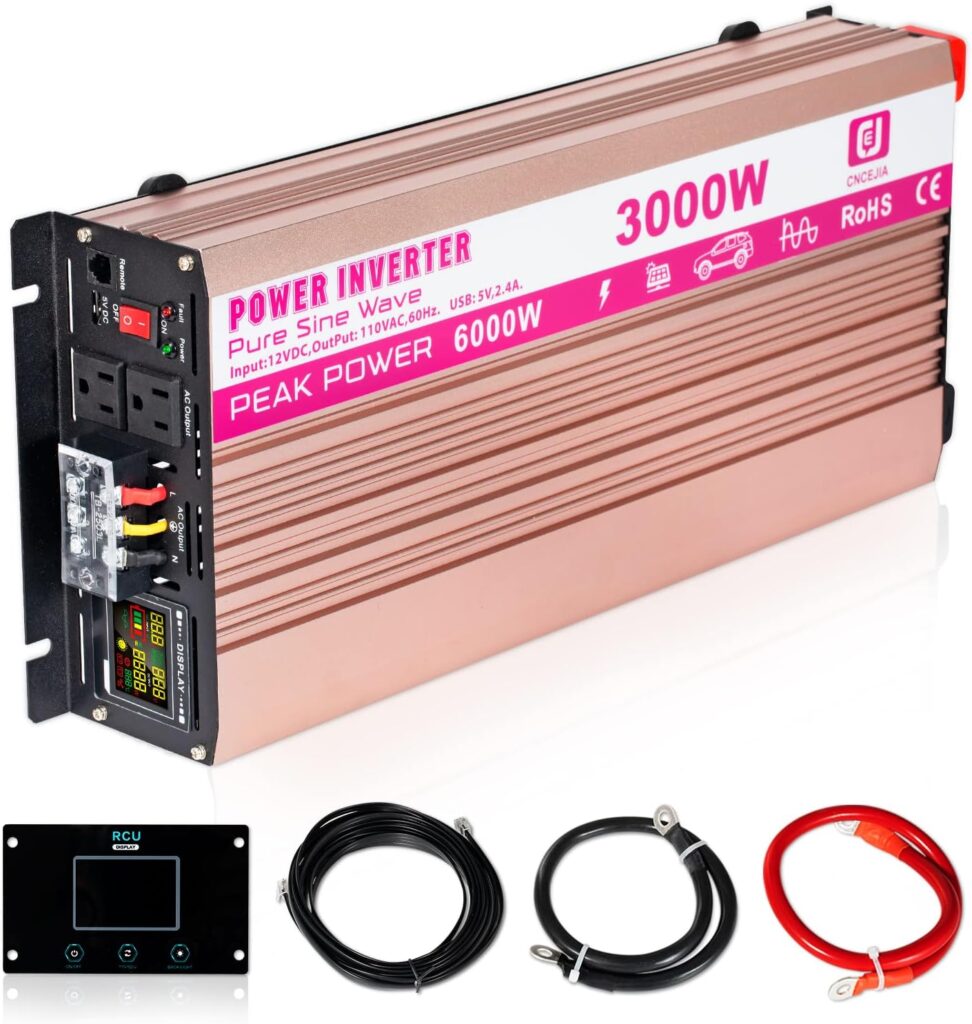 I am able to read the product description, and I see that the inverter features high-efficiency cooling fans. As per the manufacturer's claim, the cooling fans run silently. These cooling fans are protection components as they work to maintain the appropriate inverter temperature. Hence it is also helpful to make the unit efficient. A well-maintained temperature unit would run efficiently.
The connection sockets are located at an appropriate location for the safety concern. The CEJIA 3000W power inverter features two AC sockets (16A) and one USB port. And these sockets have a built-in door for the protection related things.
Since it is a pure sine wave 3000W inverter, so high grade aluminum material is used to make the inverter body. It is designed very well so that if it falls it won't get affected.
Great 3000W Inverter for the Peace of Mind
A user wrote in a review that it was great because he could escape from his house to his truck when the electrical grid broke. Further, he wrote that he was using a jump box to power this unit to open and close his garage door.
The CEJIA 3000W inverter is solidly built as many users wrote in his reviews. It doesn't have loose fittings inside, so it would not get affected from a heavy shake or collision. A user wished that it would be good in a pink color but he was fine with the current color as well.
Highlights – CEJIA 3000W Power Inverter
3000W output power
6000W peak power
12v input voltage
 120V AC output voltage
Dual AC outlets and dual 2.4A USB ports
Remote controller
High speed charging capacity
Multiple types of protection capabilities
Two intelligent cooling fans
LCD display screen
Protective against overload, short circuit, over-voltage, low-voltage, overheat and overcharge
High current terminals
Sockets with built-in protective door
Aluminum alloy shell
Great heat dissipation capability
Built-in high-speed cooling fans
Pure sine wave waveform
LCD HD display
Rose gold color
24 x 10.2 x 5.8 inches product dimensions
16.87 pounds weight
CEJIA brand name
Most of the highlights of the CEJIA 3000W power inverter are written above. Seeing the highlights, I can say that it is a feature-rich product. It has all the features found in a high-end inverter. It has high speed cooling fans and many protection features to keep the unit and the connected devices safe all the times. The unit also comes with a remote controller for a remote operation.
PROS
Good for vehicle and home use
It delivers the rated power approximately.
Pure sine wave unit
Nicely constructed
Good company and good customer service
Very solid build quality
The LCD display works perfectly and show important status
Easy to hook-up and use
The instructions are very clear.
The color and look of the inverter are very appealing.
CONS
The fans are loud a bit.
It is heavy and large a bit.
The key pros and cons of CEJIA 3000W power inverter are written above. Please read pros and cons carefully because pros and cons are a vital part of the CEJIA inverter review. It has many good features that you may not find in the same price range from other brands. Of course, the price is super low. It has an LCD display that shows important information and keeps you alert about the inverter operation. More importantly, the unit is solidly built. Of course, it is a nicely constructed unit. I hope CEJIA Power Inverter Review was helpful to you.