There is no doubt to the popularity of the Schumacher brand. It is a brand name that makes a wide range of automotive and electronic products. In case, if you are looking to buy a decent price battery charger (engine starter, boost maintainer), please read Schumacher SC1281 6/12V Fully Automatic Battery Charger Review. Personally, I highly recommend buying this product. Why would you buy the product on my recommendation? You can buy this product because I have researched it very well. Based on my research work, I found that it is a quite popular battery charger and maintainer. Also, it is a long lasting product, which will last for years. And, it has many good features that would be useful as per your needs.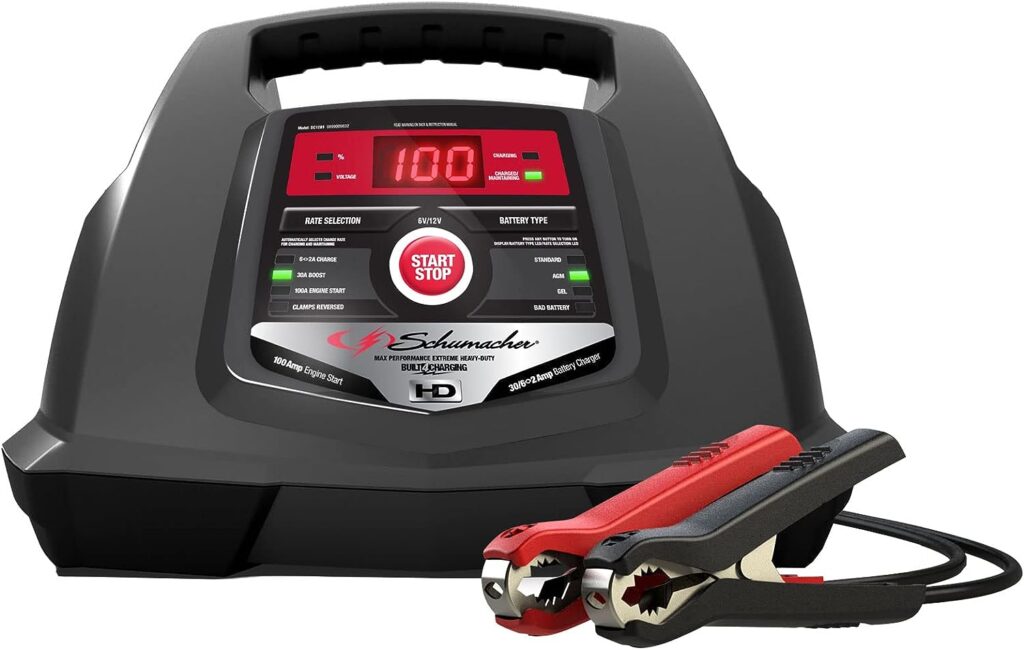 Capabilities – Schumacher SC1281 Battery Charger & Maintainer
There are many good reasons of buying Schumacher SC1281. It delivers a good performance, has a dedicated boost mode, advanced diagnostic capability and multi-stage charging modes. More importantly, the Schumacher battery charger is compatible with most batteries and it is engineered with advanced charging technologies.
Boost mode (30-amp) – the boost mode is quite helpful for those batteries, which are discharged completely. This boost mode will surely take discharged battery to its normal life.
Fully automated – the Schumacher battery charger works automatically. Every mode works independently, so you don't have to do anything manually. It has many capabilities like multi-stage charging, float mode monitoring, bad battery detection and reverse hook-up protection.
Float mode – what is a float mode? In this mode, the battery charger delivers a low amount of current when required to keep the battery fully charged.
Many battery types supported – the Schumacher battery charger and maintainer can work with a wide range of batteries such as GEL, AGM, and standard and deep-cycle batteries.
Big performance – if you are looking to buy a high performance battery charger, the Schumacher SC1281 100A battery charger is for you. It has capabilities such as 100A engine start, 30A boost, 2A-6A maintenance charging capability. Such chargers are perfect for vehicles like trucks, cars, SUVs and more.
Advanced testing feature – the Schumacher battery charger has built-in alternator tester that detects the charge level in a battery, and helps correct the issues.
Some of the key capabilities of the Schumacher 100A battery charger have been described. You can see it has many good capabilities to diagnose a problem, support a wide range of batteries, maintain a battery and deliver the best performance.
A Well-Made Battery Charger for SUVs, Trucks, Cars & Others
Of course, Schumacher 100A battery charger is a well-made and well-engineered product. If you are buying it for your home garage, so it is the best product for such purposes because it is a reliable battery charger, maintainer and jump starter.
Therefore, if you are planning to buy a battery charger for your garage, you must go for it. It is fully automatic, and has many advanced features. You will be able to diagnose the problem and correct it.
It is very powerful. It has a 100A engine start capacity, 30A boost capacity and from 2A to 6A charge or maintenance capacity. Of course, it is powerful enough to star SUVs, trucks, cars as well as large batteries.
More importantly, the Schumacher battery charger is highly safe to use because it has a reverse hook-up protection. This protection feature is to protect the unit in the situation when the clamps are reversed.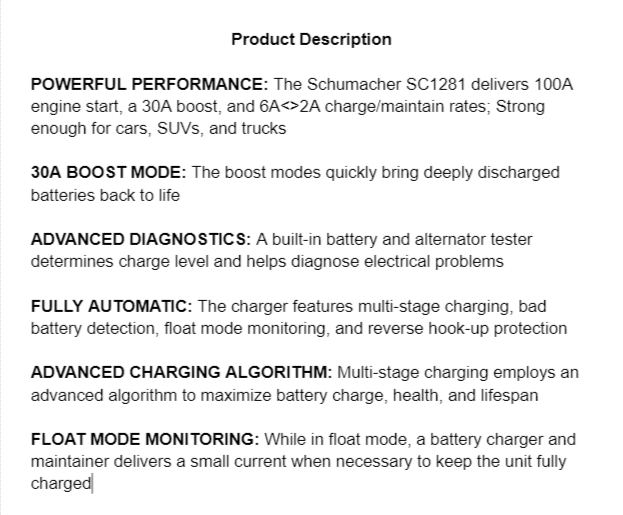 Good for Keeping the Battery Alive
A user wrote in his review that he used many battery chargers from different brands. Most of them had the similar capabilities except the battery maintenance capability. Therefore, this user bought this Schumacher 100A battery charger because it had the battery maintenance capability. Now, with this charger, he can go out of his town for a long period of time and he doesn't come home with a dead battery in his car. He said that he used more electronics than before and the battery was able to keep them charged.
As per his experience, the Schumacher battery charger is very powerful, feature-oriented and easy to use. Yes, it is very easy to use as anyone in the family can easily operate it and use it for the purpose.
According to many users, Schumacher SC1281 is not only very powerful, but also very sturdy and qualitative. It has a strong body and good quality jumper clamps. It is very powerful enough to work with an SUV without an issue. The good thing is that it can make a dead battery alive.
Key Features – Schumacher 100A Battery Charger
100A engine start capacity
6V or 12V charging or maintenance capabilities
Works with most battery types like AGM, Standard, Deep-cycle, Gel and more
Digital display
Battery/alternator tester
Reverse hook-up protection
Black color
7.25-inch depth, 10.75-inch-width and 11.13-inch height
12.7 pounds weight
120V input voltage
30A boost mode
Bad battery detection capability
Multi-stage charging
Maximizes battery charge and life
Float mode monitoring
Schumacher brand name
SC1281 model number
Please read the list of features. You can see the feature list contains almost all the key features and capabilities. You should not have a doubt to the capabilities it offers. The Schumacher battery charger is a feature-rich unit as it is not only a battery charger, but also a battery maintainer, battery tester, and an engine starter. More importantly, it is a quite popular product. Most of its users are quite happy. It has many good features that may not be available in a normal battery charger. You can see it has a 30A boost mode, a battery detection capability, multi-stage capability, float mode monitoring and more.
PROS
A well-made battery charger
Many safety features to protect from over-charging, over-load and over-heat
Easy to charge a battery
Easy to use
A feature-rich product
The battery maintainer works well.
A set of high-grade metal clamps are included.
It can diagnose a battery as well.
A long-lasting battery charger
Works with many types of batteries
Very popular
Automatic sensing capability
Feels heavy-duty
Very useful display
Good customer service
CONS
A bit expensive
Short warranty period
The instructions should be clearer.
I scanned various users' reviews and wrote the pros and cons above. You can see it is a performance-oriented product with many good features and capabilities. You should definitely buy the Schumacher battery charger if you are looking for a versatile product, which is also durable too. Most of its users are quite happy so I hope you would also be happy. A set of high-quality metal clamps are included for your convenience. On the downside, the product is a bit expensive and the warranty period is a bit short.