Schumacher is a big name of a wide range of electronic products including high amperage battery charger. Please read Schumacher Battery Charger Review, if you want to buy a battery charger. Well, the manufacturer says that it is a smart battery charger. It is not only a battery charger, but also a battery maintainer too.
In this battery charger, I saw that it has high amperage: 250A (12V), 125A (6V) & 50A (6V/12V).
Therefore, it is a powerful battery charger that has enough power for a wide range of vehicles trucks, SUVs and large engines. It also has a 50-amp boost mode, which can be used to charge or discharge a battery very quickly.

Also, the Schumacher battery charge is versatile enough because it can work with a wide range of batteries like deep-cycle batteries, standard batteries, gel, AGM and other batteries.
You can undoubtedly use this product for the outdoor use because it is sturdy enough, and made in a rugged design. It is designed to be used in any weathers.
More importantly, it is a great long-lasting battery charger because it has a powerful micro-processor, which controls automatically and adjusts amperage speed to maintain the charge. It also has 2A/6A charge functions to keep the stored lead-acid batteries charged. And, it is an easy to use product that has features like LED indicators, a digital display and button controls.
Great for Starting Dead Trucks & SUVs
As per a user, it was an easy to use battery charger (Schumacher DSR131 DSR ProSeries). It does not have the heating issue or noise issue.
This user bought this battery charger for his mom's car because she didn't drive the car much so the battery was dead. The Schumacher battery charger worked well to charge the dead battery. He said that it was able to start the car in just few minutes. So, he was very impressed with the performance.
However, as per him, the major con in this product is attaching the wheels to the body, because it was a bit difficult to screw in. He needed a long neck screwdriver to screw and attaché the wheels to the body.
Another user was quite happy with Schumacher DSR131 DSR ProSeries Charger because it was lightweight and easy to use. Previously, he was using a Nappa Charger, which was old enough so died. Therefore, he had to replace his old battery charger with this Schumacher battery charger. As per this user, it is a good combination of features and price.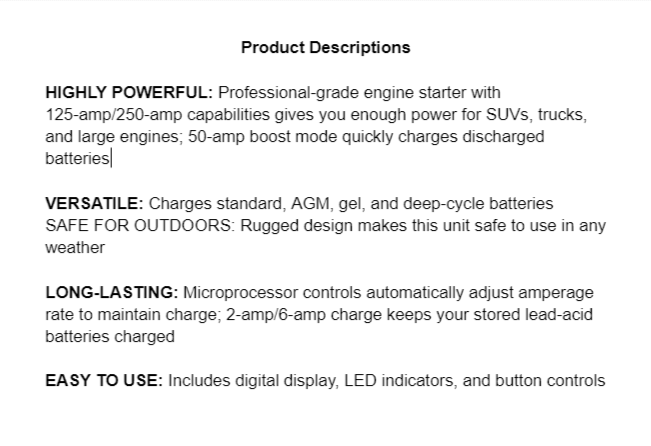 Key Features – Schumacher Battery Charger Review
250A (12V) and 125A (6V) capacities
50A boost
Digital display
6A / 2A charge maintainer
Compatible with standard, AGM, gel and deep-cycle batteries
33 pounds weight
11.8 x 11.8 x 24 inches product dimensions
DSR131 model number
Schumacher brand name
Multi-stage charging modes
Key features are written above, which may be helpful to understand the capabilities and workings of this product. I see it is a great multi-stage battery charger by Schumacher. It also features a digital display, which is quite helpful to know the working status and other important information.
PROS
Easy to use
No overheat issues
Fast charging speed
A low price product
CONS
The buttons are of low quality.
It does not charge a dead battery.
Wheels are difficult to attach
Short cable
For many users, the DSR series products are garbage.
Some users complained that it didn't come with the wheel rod.
False advertisement related to the amperage output
Based on the pros and cons, it is not a very good product. The Schumacher battery charger has many cons, so you have to understand the fact. Of course, it is a low price battery charger, but for most users, it failed to give the value for the money. Of course, it is a plug and play type charger and it may be easy to use but it comes with many disadvantages too. The major downsides are the low-quality buttons that don't response well. It fails to charge a dead battery but it is advertised to charge even a dead battery. Many users said that this DSR series product is not very good.