If you are looking to buy a super affordable battery charger, you can read NEXPEAK Battery Charger Review as well. The battery charger has many god features which would provide the required convenience and flexibilities to charge a battery.
Of course, it is a powerful charger so it would work fine with vehicles such as cars, trucks, lawn mowers, motorcycles and more. It has capacities like 10-amp with 12v batteries, 5-amp with 5-amp batteries. More importantly, it is a multi-stage battery charger.
The manufacturer says that it has a good charging speed, which is correct. Seeing the low price, it is a good battery charger and battery maintainer.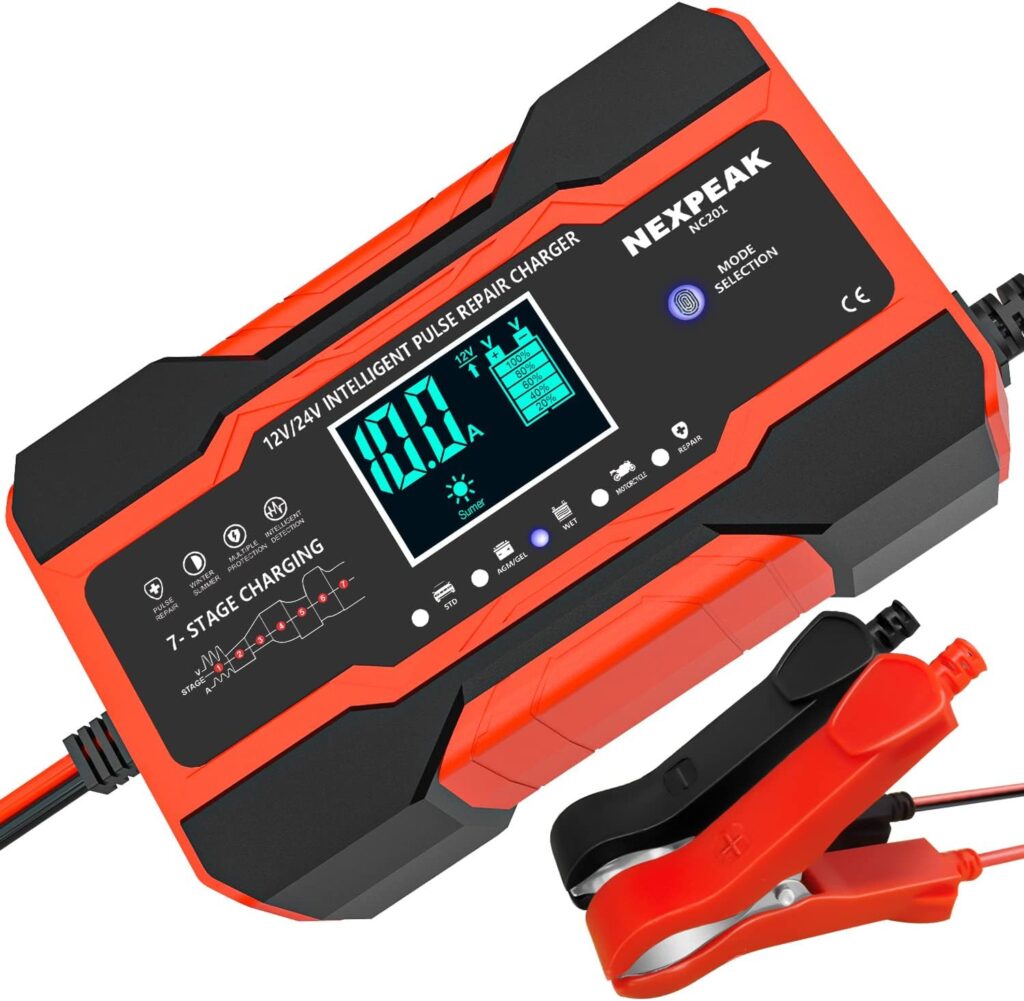 You can use the NEXPEAK battery charger to charge or repair a 12V battery or a 24V battery. Impressively, it is compatible with a wide range of battery types like GEL, AGM, SLA and flooded.
Highly Efficient & Protective Battery Charger
Efficiency – of course, this NEXPEAK battery charger and maintainer is an efficient product. It is highly efficient because it is capable to detect battery's acid stratification and sulfation. Also, it has the latest pulse rapier function to repair a battery and increases the overall life of the battery too. Please know that if the battery is completely dead then it won't be able to repair that.
Eight charging protections – the NexPeak charger and maintainer is highly protective. It balances the temperature level regardless the whether conditions, hot or cold. Apart from the temperature protection, it is highly protective against over-current, reverse polarity, over-voltage, short-circuit, and has a great cooling system too.
LCD display – the LCD display is an impressive feature in this battery charger. It has a large LCD display that shows the battery status, charge voltage, current, inner temperature level and charge percentage. Also, it has various modes like summer mode, winter mode and others.
This is a great plug n play charger, which is very handy to use. It is highly efficient and protective too.  More importantly, the NEXPEAK charger is advertised as a 7-stage quick charger, which is further totally safe to use and it is a great lightweight and pocket-size battery charger.
Very Good Repair Mode
A user wrote in his review that he was not aware of the pulse charger or repair mode in a battery charger. Previously, he used a battery charger that didn't have the repair mode and it was very slow. He used this NEXPEAK battery charger to repair his battery; he was amazed with the charging speed. He said that it was a wonderful product.
As per this user, the battery charger was capable to bring his dead battery to the life. Further, he said that it was worth the price, probably double the price. Also, he liked the cooling fan in it as his previous battery charger didn't have the cooling fan. He was quite happy with this NEXPEAK battery charger because it could extend the life of the battery.
Key Capabilities – NEXPEAK Battery Charger Review
7-stage quick battery charger
10A output capacity
Can charge or repair 12V or 24V batteries
Compatible with various battery types such as GEL, AGM, SLA, Flooded and more
8 charging protections
Highly efficient
Large LCD display
Plug n play battery charger
Float or Trickle charge feature to maintain batteries
Intelligent detection capacity
100 to 240V AC input (60/60 hz)
10A 12V & 5A 24V
Cooling fan
The NEXPEAK 10A battery charger has many good features; most of them are written above. You can see it has 10A battery charging capacity, a large LCD display, built-in cooling fan and many protection features. More importantly, the NEXPEAK battery charger is compatible with a wide range of battery types. It is also an efficient battery charger because of the capabilities it boasts. More importantly, it is not only a battery charger, but also a battery maintainer and a battery repairer. The price is quite low so you must buy this product because you are not going to lose much.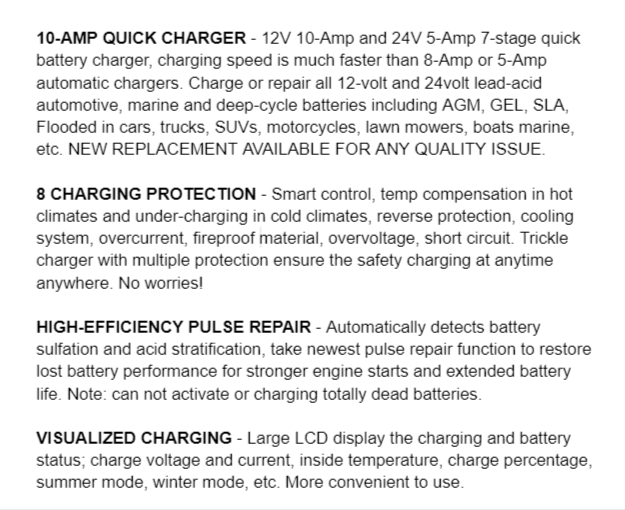 PROS
Fast speed charging and repairing capacities
Super low price
It charges various types of batteries
It is much faster than expected.
Very nice display
Very popular product
Automatic switch off capability
CONS
Lithium batteries are not supported with this charger.
It lacks an on/off switch.
The NEXPEAK battery charger/maintainer has many pros, which are written above. It is a low price product that does the amazing charging job. The battery charger has many good features including a detection capability, battery charging capability, repairing capability, restoring a dead battery capability and many others. It looks very nice and it is a small size unit so it would provide the highest level of portability and flexibility. The charging speed is also quite good as most of the users are quite happy with the charging speed. It has a large LCD display that shows charging status, battery status and other useful information. I hope NEXPEAK Battery Charger Review was helpful to you.