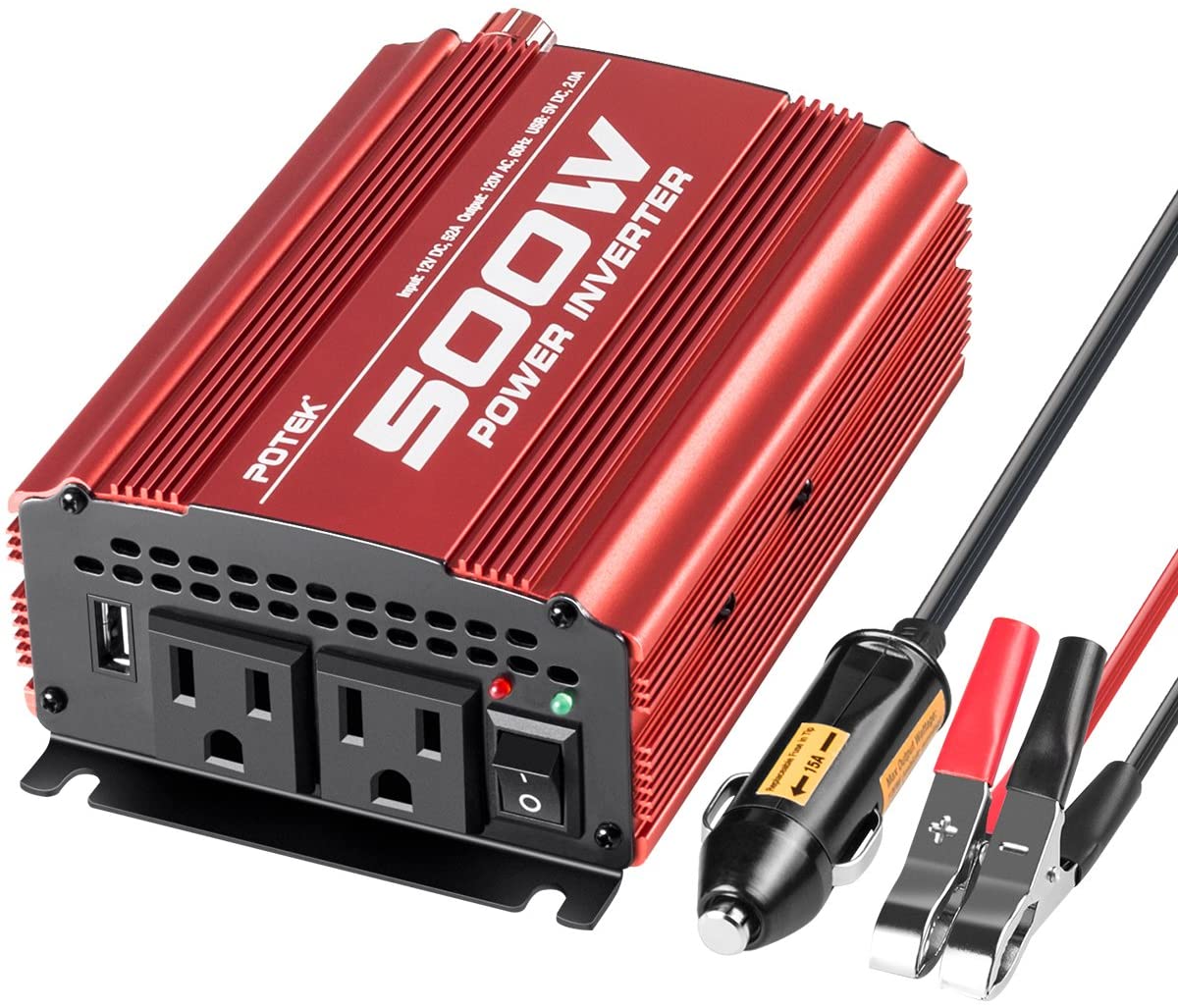 Potek is one of the top inverter manufacturers. It makes portable and solid power inverters that sell on many popular selling platforms at discounted prices. In case, you need to buy a Potek inverter, please check either the 500W or the 750W Potek inverters that are available on Amazon at the time of writing this article.
This review is about the Potek 500-watt inverter, which is a popular power inverter and a part of bestselling items on Amazon. Thousands of units are already sold that is a good indication of its popularity.
The Potek 12V power inverter can be used for multiple purposes because it has two 110V AC outlets and 2 USB ports. With these connection outlets, you will be able to charge your mobile phones, laptops, DVD music systems and many others.
It delivers 500W continuous and 1000W surge power that you can use to power your home and kitchen appliances, music players, computers and other personal devices.
Potek claims that it comes with multi-protection capabilities. So, it is highly protective against voltage fluctuations, short circuits, overheat, overload and other electrical problems. Most importantly, the Potek 500 watts inverter is a lightweight and portable inverter that can be stored anywhere you want. You can keep it in a pocket as well. Also, it is a high efficiency inverter that means you get the expected performance from this 12v power converter.
The package includes a Potek 500-watt inverter, a car cigarette lighter plug, battery clamps, extra fuses, and owner book and quick-assistance customer service.
I suggest buying a Potek inverter because Potek is a trusted brand name of numerous power inverters. From Potek, you will be able to find all types of power inverters in different sizes. You can go with Potek inverter brand because it only manufactures the best quality power inverters at reasonable prices. In case, you need to buy an inverter for road trips, outdoor applications, vacations and emergency power supply, always prefer to buy from Potek. Read more…