You may have seen many solar fountains, now please know a bit about this low-price solar powered fountain pump that gets the job done. Please read the complete VIVII solar fountain review to know its ins and outs.
Well, the manufacturer says that this fountain pump uses a smart technology for the added efficiency. The solar panel has a 1.4W capacity, and it has a great energy-saving capability too.
Users need to place the solar panel at the place where enough sunlight is available; it would start working based on the amount of solar energy it gets. Please know that it does not have a battery, or does not require electricity as well.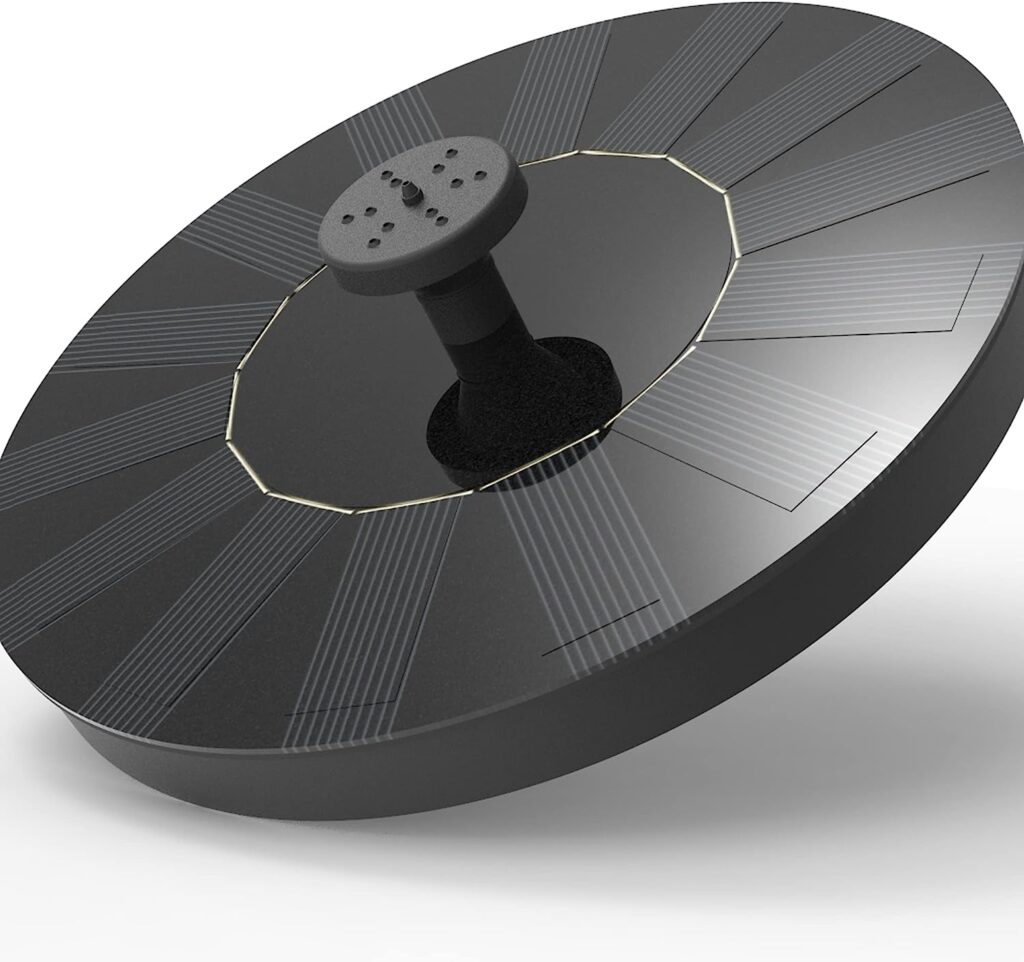 Therefore, if you are looking to buy the latest and cheapest solar water fountain pump, the Vivii fountain pump can be the best product for you. It will surely give an excellent look to your garden; and it can be a great solar water pump for your birds.
Up To 18 Inches Tall Water Fountain
Well, up to 18-inch height of the water spray is very good. However, it depends on the sunlight strength. It is like stronger the sunlight, taller the water fountain.  Additionally, sometimes leaves and other particles may cover the solar panel which may result in reduced performance. So, time to time, you have to clean the solar panel.
Submersible pump – the VIVII water pump runs automatically based on the detection of the water level. As per the product description, the pump will start when it senses water at 1/5-inch. And, it will stop automatically when the water level gets lower than a certain level.
In fact, the built-in brushless motor is quite powerful, which may last for years, and may consume less energy as well.
Floatable solar panel – the solar panel can float on the water. So, whether you put it in ponds, fish tanks, water fountains or water tanks, it will float there. Therefore, you don't have to fix or do anything extra.
4 spray nozzles – the main benefit of using a different nozzle is getting a different water flow style. Yes, the water flow will change depending on the nozzle you use. Please know that changing the nozzle may alter the spray height also. So, the multiple nozzles are a great way to add a nice touch to the fountain.
Birds Love It, but Please Keep the Solar Panel Clean
A user said that he bought the solar water pump for his birdbath. It was a great product to attract birds. However, he faced a bit problem to clean the filter. He said that after four months, the VIVII water pump fountain stopped working.
Therefore, he decided to order one from a different brand but before ordering, he wanted to know the exact problem why it didn't work. He noticed that it dried. There was some white stuff on the top. So, he scrapped the calcium from the top with the help of a knife. After that, it started working. He said that the calcium was accumulated on the surface of the solar panel, that's why it didn't work before.
The Smallest Nozzle Works Great
A user loved this ViVii solar fountain. He bought it for his small bird bath place. As per his review, it comes with many different nozzles, but most of them have excessive height, so they go out of the bath area. So, this user used the smallest nozzle that worked perfectly go give the required water flow. He said that it passed three summers since the purchase, so it was a quite long lasting product. As per his review, it gets clogged up, so he advised others to clean it regularly, at a gap of at least three weeks. If you do the maintenance work well, it would last for a long time. And, please keep adequate water in your birdbath so that it would work well.
Highlights – VIVII Solar Fountain Review
1.4W solar panel
4 nozzles
Black color
Modern style
6.3 x 6.3 x 1.3 inches size
No battery required
Up to 18 inches spray height
Submersible pump runs automatically based on the water level.
Gives your garden the aesthetic upgrade
Direct sunlight needed to run properly
Plastic material
0.5 pound weight
Round shape
Great for the outdoor use
If you want to buy the VIVII brand solar water pump, please read the highlights written above. The main highlights are 4 nozzles, up to 18 inches spray height, 1.4w solar panel capacity, round shape, and it is made in a modern style. Please know that it is a submersible pump so it will run automatically sensing the water level. Of course, you have to place the solar panel at the place where a good amount of sunlight is present.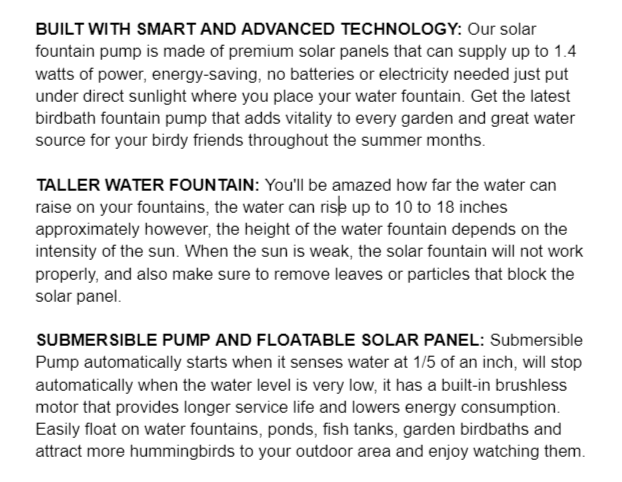 PROS
The birds love it.
Several nozzles for several spray styles.
For many users, the smallest nozzle worked perfectly.
It is a long lasting product.
Super low price
Easy to assemble
It is great for a full-size birdbath.
It looks cute and delightful.
Easy to use
CONS
It is a bit difficult to keep the filter clean.
The excess height of the water spray is not liked by many users.
It does not have a battery backup.
The filter is clogged quickly.
I have written the key pros and cons, so it would be easy for you to understand the actual capability of the product. In the list of pros, you can find that it is very easy to use and assemble, has several nozzles for different spray styles and heights. Of course, as per VIVII Solar Fountain Review, it is a long-lasting product that works perfectly. More importantly, it comes at a low price, which is the main benefit of buying this product.  However, the product has some cons too. Some users complained that it was difficult to keep the filter clean and it is clogged quickly and easily.