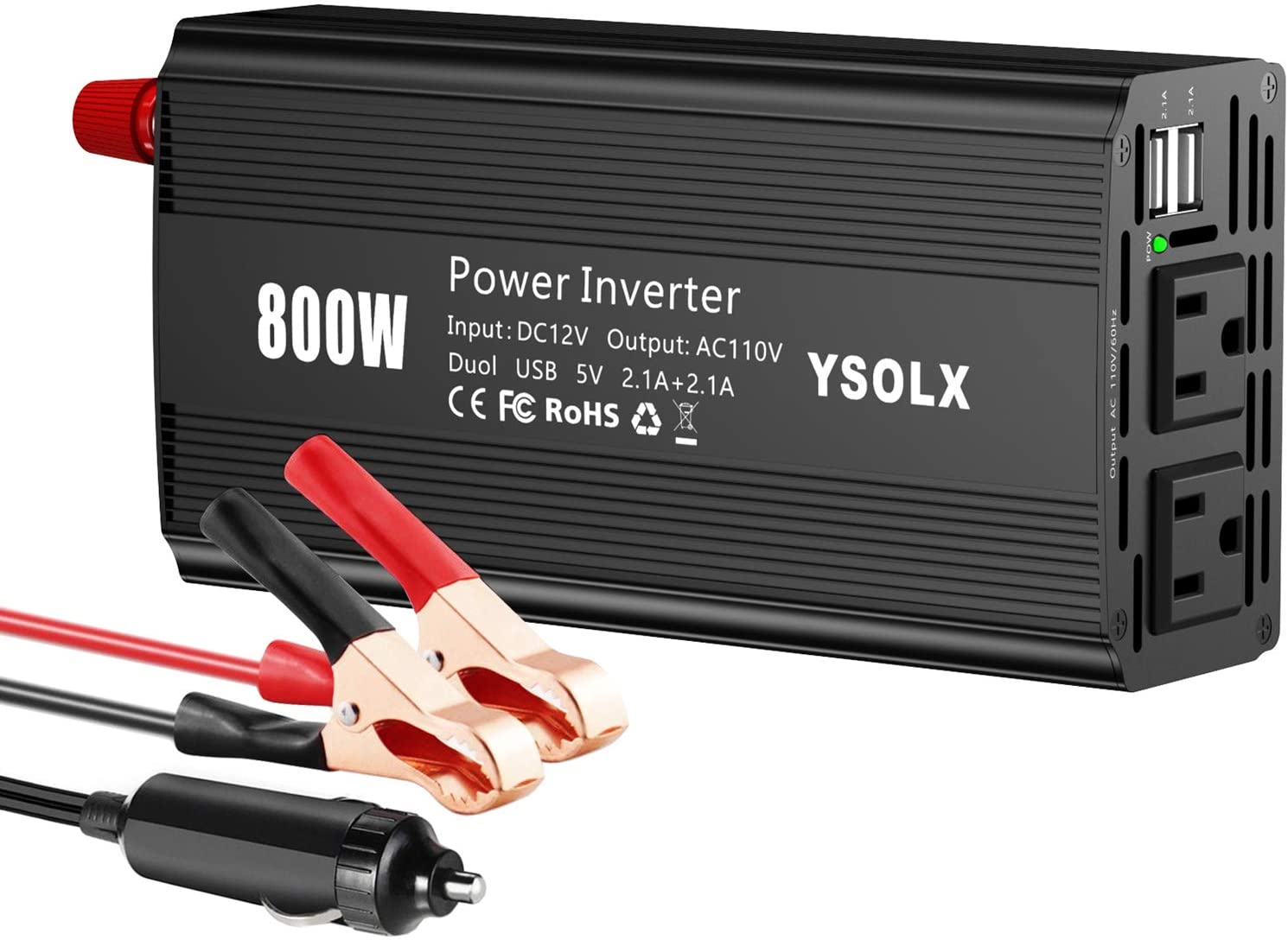 YSOLX is a power inverter brand. Their inverters look special to me because the outside design is totally apart from the most inverters on the market. These power inverters do not have any issues for the performance because it has earned good ratings on Amazon by the existing users.
The 800W YSOLX power inverter is based on an advanced safety technology. It features both smart-chip and built-in fuse for the protection. As soon as, the YSOLX power inverter finds any fault in the system, it will first turn off the output power and notifies you with the help of a reminder light. You know before the problem occurs so it saves the effort of replacing fuses.
YSOLX 800W power inverter also features a voice alarm. Which after the fault detection, the inverter reminds you with the alarm sounds about the current faults in the inverter. Such features are very helpful to save the inverter from any serious damages.
Apart from the reminder sound, it features a smart cooling fan. This inverter fan runs on certain conditions on different speeds. Mainly, the inverter fan runs on certain inverter load and temperature. Also, the inverter fan will not create any troubles of the annoying sound because it runs silently because it is made that way. Well, main work of this smart cooling fan is to get rid of overheating and maintaining proper temperature in the inverter.
For the output power supply, YSOLX 800W power inverter has two 110-volt AC outlets and two USB ports. The USB port has 4.2A capacity. Well, YSOLX claims that the both USB plugs have automatic device detection capability and they charge devices at an impressive speed. I think no need to say about the uses of a USB port. It is a widely used connection method for connecting devices such as iPhone, Kindle, tablet, cameras and various mobile and computer accessories.
YSOLX 800W power inverter's main work is converting DC current to AC current. The YSOLX 12V inverter converts 12V DC power from a battery to 110V AC power. Today, most devices and appliances in homes need AC 110V power for the operation. In this situation, this 110V AC power inverter is very useful. Most importantly, the YSLX 800W power inverter has multiple safety capabilities. It has a long-lasting metal case, which is very protective against drops, bumps and heavy strokes. Additionally, a safe-charging mechanism is implemented that avoids over-heating, reverse polarization, over-current, under-current and short circuits. Read more…