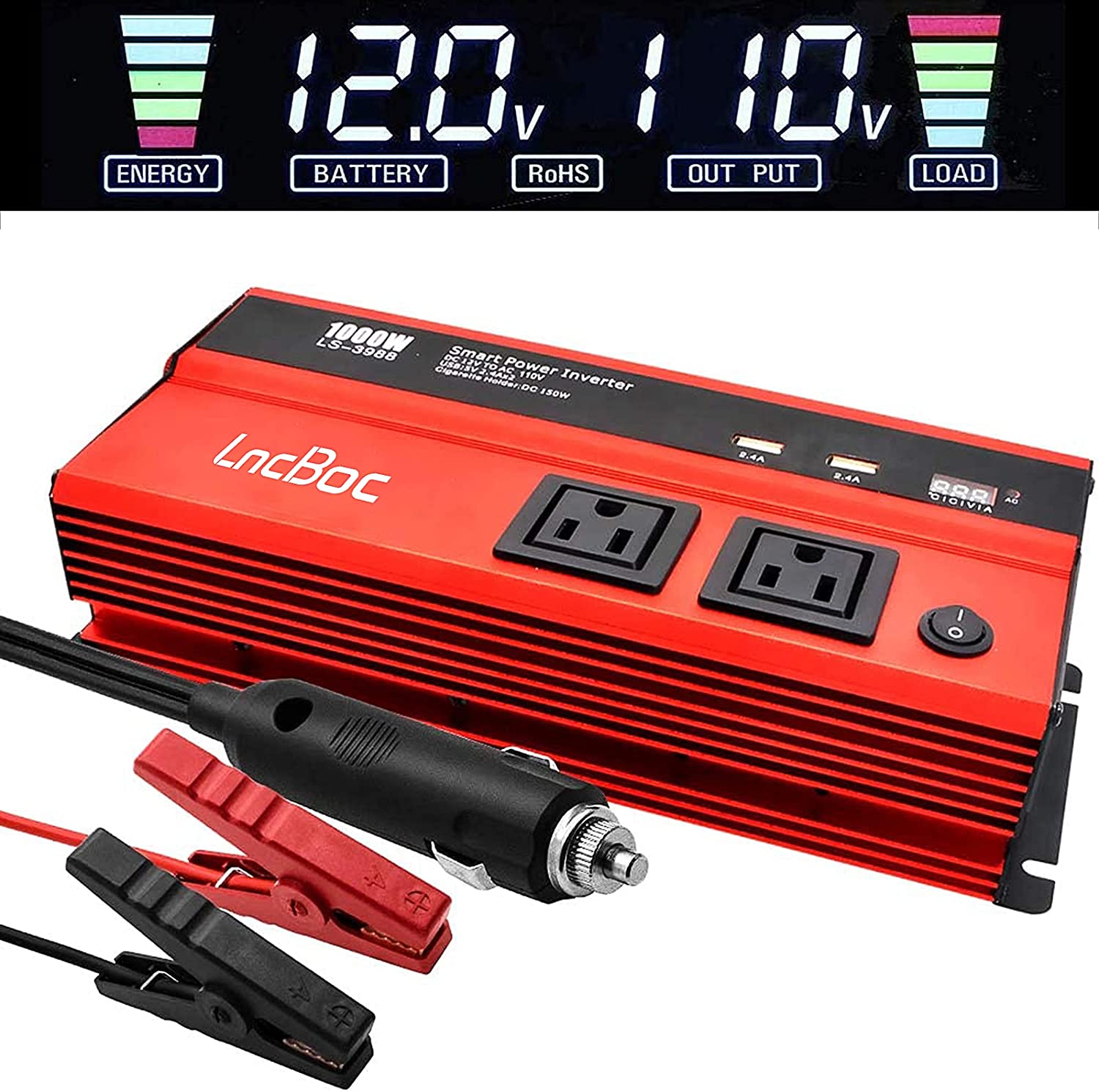 You can check LncBoc 1000W power inverter. The modified sine wave power inverter by LncBoc has dual AC outlets and dual smart USB ports. The solid LncBoc 1000 watts power inverter features a cigarette lighter plug and two battery clips. You can use this lightweight and portable LncBoc power inverter to charge various devices.
The 12V DC to 110V AC power inverter by LncBoc is a portable unit that measures 9 x 4.1 x 2.5 inches. You can use this space-saving power inverter to run several 110V AC appliances and USB-enabled devices. The easy storage LncBoc power inverter has an aluminum case that makes it more portable and sturdier than others on the market. The portable LncBoc power inverter is lightweight too because it weighs just 4.4 lbs.
The high-protection 12V power inverter has built-in fuses and a smart cooling fan. It also has a safe charging design. With all these protective attributes, the LncBoc power inverter is safer than others do. The safe LncBoc power inverter comes included with two battery clamps and one cigarette lighter cable.
The outlets are uniquely design that provides utmost usage convenience. You can easily insert two larger plugs at the same time and power your desired appliances. The LncBoc power inverter also features USB ports for the USB devices. Such solid and powerful LncBoc 12V power inverter is perfect for the emergency power requirements, outdoor uses, home appliances, vehicles and many others.
1000W LncBoc 12V power inverter has compact aluminum housing that provides advanced protection and easier cooling. You can deploy the solid power inverter anywhere you want. It can survive in any tough environments.
Features & Specifications
Durable aluminum housing
1000W output power
4.4 lb item weight
Dual AC outlets
Dual USB ports
12V DC to 110V AC power converter
Cigarette lighter plug
Alligator battery clips
User manual included
Safe charging design
Quiet cooling fan
40A fuses two pieces
Modified sine wave output
Pros
Silent cooling fan
Fair price
USB cables, cigarette lighter plug and alligator battery clamps
A well-made power inverter by LncBoc
Built with premium-grade aluminum materials
Cons
The battery jumper cable is very small.
Some customers received defective alligator clips