The YONHAN battery charger has received good respects from its users, so I wanted to let you know about this product. Please read YONHAN Battery Charger Review to know the pluses and minuses of this product.
As per the manufacturer, it is not only a battery charger, but also a battery maintainer, trickle charger and a battery desulfator. Therefore, it is a multi-purpose battery charger undoubtedly. The good thing is that it is a low price product that comes with many great features.
If I talk about the capacity of this battery charger then most of the capacities are written in the title of the webpage. It is a 10A fully automated charger, which is compatible with both 12v & 24v batteries. Of course, it is a small size battery charger but delivers good output power.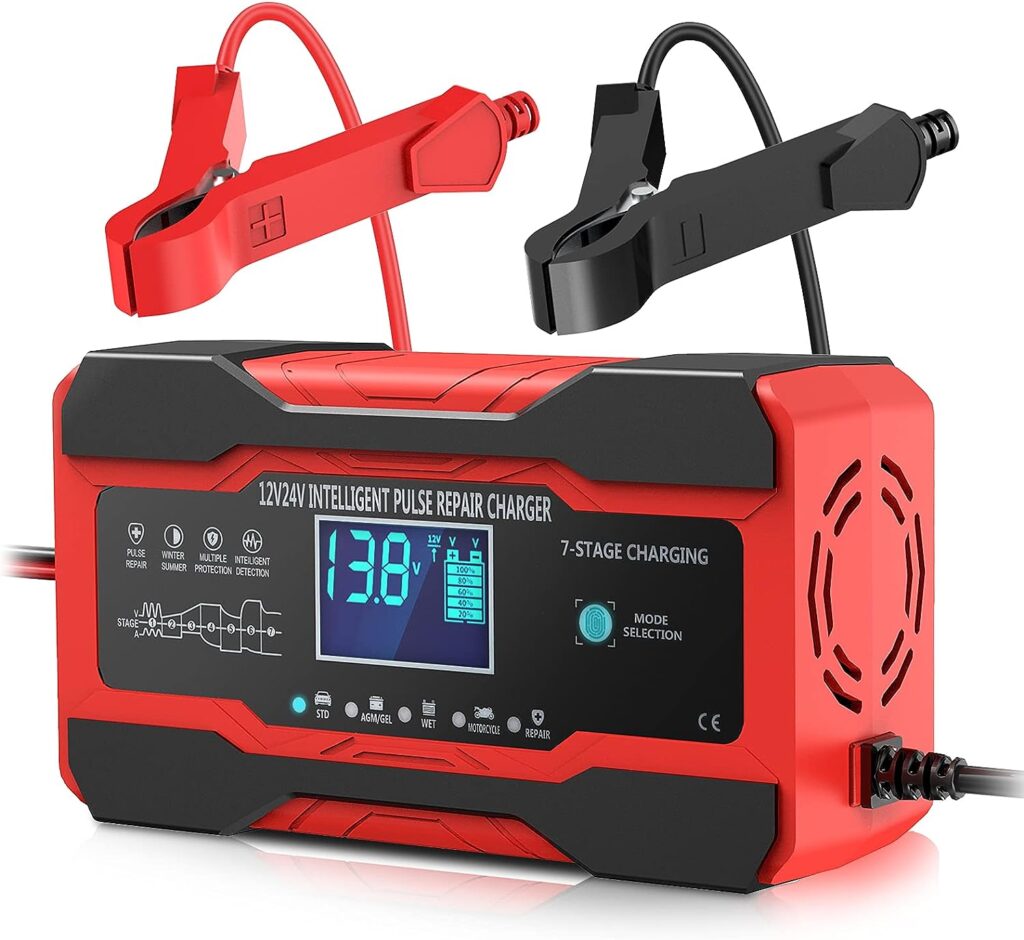 Therefore, with the help of this YONHAN battery charger, you will be able to do many things like charging, maintaining and repairing a battery.
The good thing is that it works with both 12v batteries and 24v batteries. And, it works with most batteries like AGM, GEL, SLA and flooded batteries used in various vehicles like cars, trucks, lawn-movers, boats, motorcycles and more.
YONHAN Battery Charger features an LCD screen that shows charging status and battery status, which is a good feature in this product.  The charger is also very good at solving the issues such as over-charging and under-charging because it has a built-in thermal sensor for such issues.
Integrated Advanced Battery Repair Mode
The advanced battery repair mode is great for restoring or repairing a battery. This capability is quite good to recover old or inactive batteries. Actually, the repair mode is based on the high-frequency and low-frequency technology, which has good repair and activation effects. However, this mode has some limitations as it is unable to recover a dead battery or a damaged battery.
Memory function – YONHAN Battery Charger has an intelligent memory function. This function is quite helpful in the situation when it has to remember the last charging process, which may happen due to the power failure issue. And, of course, it requires power connection to charge or repair the batteries.
Eight charging protection – the Yonhan battery charger is quite protective with the help of a high-grade wire (heat-resistant and oxidation-resistant). And, it has protection circuits to get rid of over-voltage, over-current, over-charge, short-circuit and more.
Good Price & Works as Intended
For a user, it was a good price battery charger. For him, it worked as intended. However, he was not impressed much with the long charging time.  Of course, if the battery is very low, it would take a long time to charge it fully.
This user charged and repaired two batteries. The product worked great for the purpose. His one battery worked well but another battery didn't work because it was much defective
Further, he said that the power cord was too short, but it was not a big problem for him. Also, switching from one mode to others was quite easy. He liked the voltage display feature because it had a percentage process, which was very helpful for him.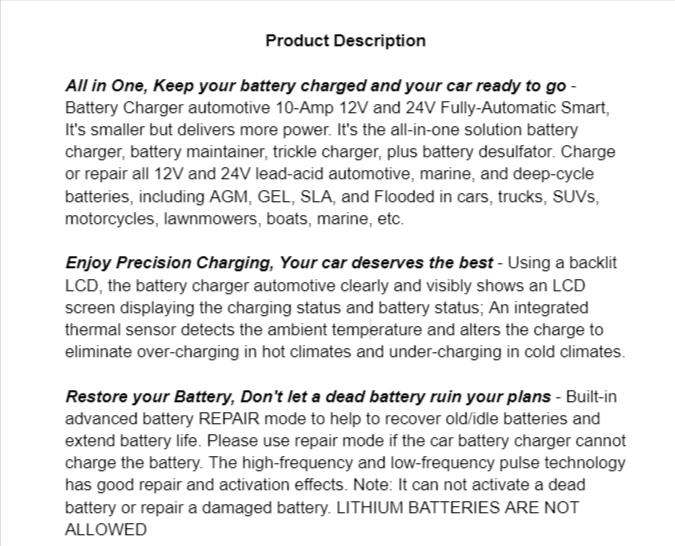 Key Features – YONHAN Battery Charger
10-amp capacity
110V input power
Works with 12V and 24V batteries
Multi-purpose unit: battery charger, battery maintainer, trickle charger and battery desulfator
LCD display panel
8 charging protections
Intelligent memory
Powerful heat dissipation function
Safe alligator clips and pure copper wire
Flame retardant shell material
2.4 x 6.2 x 3.7 inches product dimensions
1.34 pounds weight
Yonhan brand name
Please look at the key features of the Yonhan battery charger. You can see it is a multi-purpose unit, which works as a battery charger, battery maintainer, and battery repair and battery desulfator. It features an LCD display that show useful information related to voltage, charging status and more. The unit also has a memory function, which is very helpful and time saver too. It comes included with the alligator clips and wire. More importantly, it is a lightweight product that comes at a low price.
PROS
It is a long-lasting product.
Multiple modes
It works as advertised.
Mini size and a lightweight product
The built-in fan is quite helpful to regulate temperature during charging.
Good price
The LCD display is quite helpful.
It turns off automatically.
A solid battery charger
CONS
Takes longer to charge a battery
Short cable
Key pros and cons of Yonhan Battery Charger are written to help you understand the product from a user's point of view. You can see it has many great features and capabilities. It is an all-in-one battery charger which has multiple modes to charge a battery, repair a battery, and maintain a battery and more.
Of course, the Yonhan battery charger & maintainer is a solid product which would last for a long time. It has an LCD display too, which shows useful information (battery status, voltage and more). More importantly, it is a great mini size battery charger that is priced well. I hope YONHAN Battery Charger Review was helpful to you.