Topsolar bendable 100W solar panel is perfect for many applications such as installing on trailers, boats, cars, tents, trucks, cabins, roofs, yachts and many others. It is bendable in an arc shape up to 40-cm. With this flexible solar panel, you will not have trouble for the installations.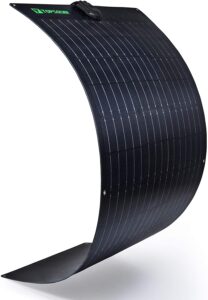 Good Conversion Efficiency
The manufacturer stated that the customers receive good conversion efficiency from this solar panel. The Topsolar bendable solar panel has highly efficient Mono-crystalline solar cells. These solar cells have special back-contact technology to remove electrodes from the surfaces. Therefore, these solar cells are capable to remove the blockage of sunshine and it produces high energy. According to the manufacturer, the conversion efficiency is up to 50% more than ordinary solar panels sell on the market.
Superior Quality Materials
The solar panel is made of ETFE material. You should know that ETFE material is responsible for higher light transmittance and long-lasting performance. Such capabilities may not be available in ordinary materials. In the solar panel sector, ETFE material is used to make solar panels because it delivers the best performance. The backplane adopts TPT to dissipate heat. Moreover, it is waterproof and temperature-resistant material. It is also easy to clean.
Many Applications – such solar panels are used for charging a 12V battery. In case, you need to charge a 24V battery or 48V battery, you can connect multiple solar panels in series to charge batteries such as 24V, 36V and 48V. In case, you need to charge a battery, you will need a controller. A controller is very useful to protect the connected battery. You will not get any difficulties to connect the solar panel with the controller or regulator.
Specifications and Features
100W maximum power
Power Tolerance Range: +/- 5%
Optimum Operating Voltage: 20.9V
Maximum System Voltage: 1000 VDC
Short Circuit Current 4.9A
Dimensions: 20.47 x 42.71 x 0.1 inch
Lightweight: weighs just 4 pounds
Waterproof and Durable
High Conversion Efficiency (Uses single crystal solar cells for the improved energy production)
You will see some of the main features and specifications in the above list. The 100-watt solar panel is a lightweight unit that is made of high-quality materials. It is highly protective against short circuits and other electrical faults. The waterproof bendable solar panel is very good to use for outdoor activities.
Pros
Many customers are happy with the purchase.
It is very easy to install
Made of solid materials
Lightweight
It produces power according to the users' expectations.
The solar panel is smaller than others are.
It comes in a good packaging.
Cons
According to some reviews on Amazon, the solar panel did not last for a long time, only for few months.
A user said that he received a damaged product.
The thin solar panel is not very durable.
From the list of pros and cons, I can say that the Topsolar 100W bendable solar is a high quality product. However, this product has received some negative reviews. You cannot do much with some of the negative reviews because it is the nature of the product. Actually, a thin solar panel may not be very durable.
Conclusion
In short, the Topsolar 100W solar panel is highly recommended to buy. It comes at a good price and the solar panel is good for many applications. You can easily install it on roof, and various types of vehicles. The energy generation capacity is very good.